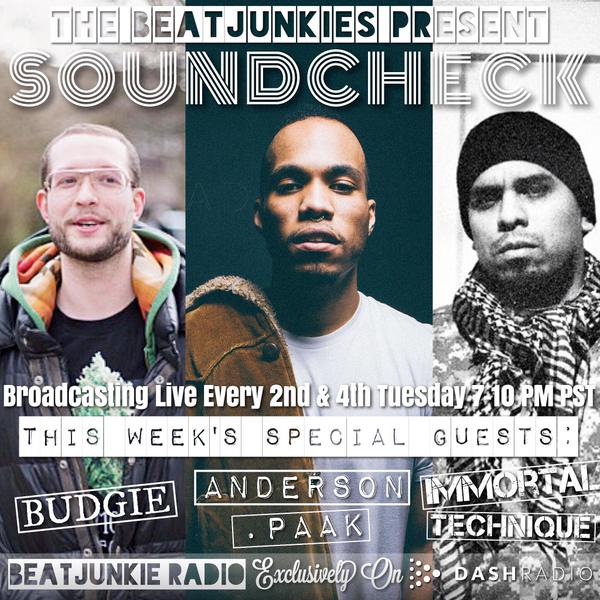 Speaking of Soundcheck…..here's the official audio from our show this past Tuesday.
The Beat Junkies present:
 Soundcheck
Broadcasting Live from Los Angeles
 7-10PM
Every 2nd & 4th Tuesdays Of The Month
On The Beat Junkie Radio channel
Exclusively on Dash Radio.
Download the Dash Radio App for free or listen to us on the web: www.dashradio.com.
Soundcheck ep. 10 (7.7.15) w/ Immortal Technique, Anderson .Paak, & Budgie
Dj Rhettmatic set
Moss – Boombastic feat Slum Village
Prhyme – Courtesy (Marco Polo remix)
Bishop Lamont – Mutiny feat. Rich Kidd
Papoose – The Plug
The Black Opera – Sacred Cow
Pete Rock – 90s Class Act
Your Old Droog – Senseless Killin II
Skyzoo – See A Key feat Jadakiss
Heresy – Da Call Out
Pete Rock – Gonna Love You
Special Guest Immortal Technique
Immortal Technique – Industrial Revolution
Chino XL – Arm Yourself feat Immortal Technique & Sick Jacken
Immortal Technique – Positive Balance feat Big Zoo
Immortal Technique -The 3rd World
Immortal Technique – Rebel Armz
Pharoahe Monch – W.A.R feat Immortal Technique
Immortal Technique – Point Of No Return
Immortal Technique – Parole (Evil Genius Remix)
Immortal Technique – Dance With The Devil
Immortal Technique – Lick Shots feat Crooked I & Chino XL
Immortal Technique – Top Of The Food Chain
Dj Babu set
Ghostface Killah – Get The Money
Bilal – Love Over Money feat. Kendrick Lamar
Slum Village – Love Is feat Bilal & Illa J
Czarface – Kaboom feat MF DOOM
Bishop Neru – Somebody Waits
Special Guest Anderson .Paak
Jon Wayne – Green light ft Anderson .Paak
Anderson .Paak – Milk n Honey
Anderson .Paak – Piece On The Glovebox
Anderson .Paak – King Dave
Anderson .Paak – P.Y.P (play your part)
Anderson .Paak – Boom Bap
Anderson .Paak – Celibate
Dj Premier x BMB Spacekid- til its done ft Anderson .Paak
Anderson .Paak – Maps
Anderson .Paak – Get Em Up
Knx x Anderson .Paak – Suede
Dj Babu set 2
Statik Selecta – Top Tier feat Sean P
Pac Div – Roll The Dice
Cormega – No Filter feat Roc Marci
Ghostface Killah – Return Of The Savage feat Raekwon
Special Guest: Budgie
Budgie set