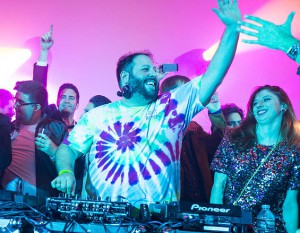 Once in a while, we like to do a profile on a Dj/Producer who are contribute music to our Digital Record Pool. This particular person we're spotlighting is a staple in the LA Club circuit & Dance Music scene…..his name is Dj Mike B.
If you are frequent club goer in Hollywood or even the music festival, chances are that you were either listening to him spin or dancing to his production edits. Mike B came up during the 90's Golden Era of Hip Hop as he was intern for the legendary "Stretch & Bobbito" show on 89.9FM in New York. He started Djing in the 90's and made his professional debut in 1998. He eventually made the transition into the Los Angeles club scene & started the legendary Banana Split parties with the late great Dj AM & Steve Aoki. He's done production work for Stretch Armstrong, Diplo, Fool's Gold, Dim Mak, & many others.
Mike B has graciously been kind enough to give us a new batch of edits for our pool. If you are a working Dj in the club circuits & a member of our Record Pool, here's your chance to grab them. If you are not a member of our pool, you need to sign up and get Mike B's edits & many more stuff. Go to http://www.beatjunkies.com to be a member of our Digital Record Pool!