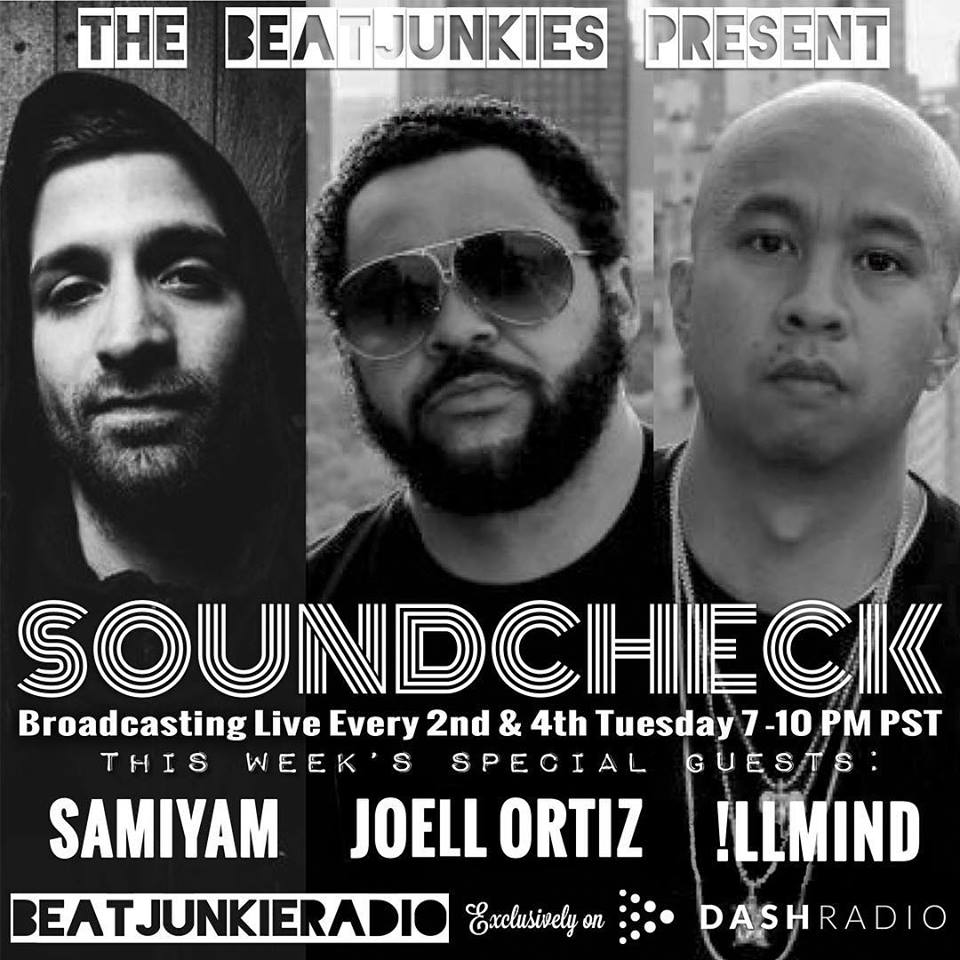 Due to Soundcloud taken down our original link, we had to upload the episode to Mixcloud now…We apologize for the inconvienence.
Beat Junkie Radio – Soundcheck Ep. 12 w/ Joell Ortiz, !llmind, & Samiyam (8.11.15) by Thebeatjunkies on Mixcloud
The Beat Junkies present: 
Soundcheck
Broadcasting Live from Los Angeles
7-10PM Every 2nd & 4th Tuesdays Of The Month
On The Beat Junkie Radio channel
Exclusively on Dash Radio.
Download the Dash Radio App for free or listen to us on the web: www.dashradio.com.
Soundcheck Ep.12 w/ !llmind, Joell Ortiz, & Samiyam + special tribute to Sean Price & Dj Swift Rock
(8.11.15)
Sean Price Tribute Mix:
Mr. Choc dj set
Sean Price – Occupy All streets
Sean Price – Heartburn
Sean Price – Bar-barian
Sean Price – STFU pt.2
Sean Price – Shut The Fuck Up
Sean Price – Gang Leader
Sean Price – Figure Four
Sean Price – I See
Sean Price – Rueben Blades
Sean Price – Kurt Rambis
Sean Price – Pyrex
Pete Rock & Smif Wessun – That's Hard feat Sean Price & Styles P
Dj Babu set
Random Axe – Chewbacca feat Roc Marciano
Heltah Skeltah – Leflah leflaur Eshkoshka
Heltah Skeltah – Operation Lockdown
Sean Price – BBQ Sauce
Heltah Skeltah – The Art of Disrespekinazation
Special Guest: Joell Ortiz x !llmind
Dj Rhettmatic set
Akrobatik – Remind My Soul
El da sensei – Crowd Pleasa
Joell Ortiz- Sing Like Bilal
Joell Ortiz – Block Royal
Joell Ortiz x !llmind – Six Fo'
Joell Ortiz x !llmind – Lil Piggies
Brooklyn Academy – Raise Ya Hand feat Pumpkin Head x Jean grae
Raekwon – The Morning feat Pusha T, Common
Scarface – Who Are They
Joell Ortiz – Brothers Keeper feat Royce da 5'9
Joell Ortiz x !llmind -New Era
Joell Ortiz x !llmind- I Just Might
Joell Ortiz x !llmind – Bad Santa
Joell Ortiz x !llmind – Light a L
Dj Babu 2nd set
Bj The Chicago Kid – Nothing But Love feat Joey Badass
Gangrene – Noon Chukas
Apollo Brown – Detonate feat. M.O.P
Dr. Dre – Darkside/Gone
Onra – That's Me feat Black Milk
Thundercat – Them Changes feat Kamasi Washington
Special Guest SAMIYAM
Gangrene – Flamethrowers pt 2
Dr. Dre – Animals feat Anderson.Paak
Dj Swift Rock Tribute Mix
JRocc set
LMNO – Tough Get Going
Frank Nitt – Slippin
Lootpack – Frendz vs Endz
Guilty Simpson – Weak Shit feat Phat Kat
Rozewood – V12 Engines feat Agallah
Jehst x Slange U – Dolph Lundgren
Gangrene – Flamethrowers pt 2
N.W.A – LIVE