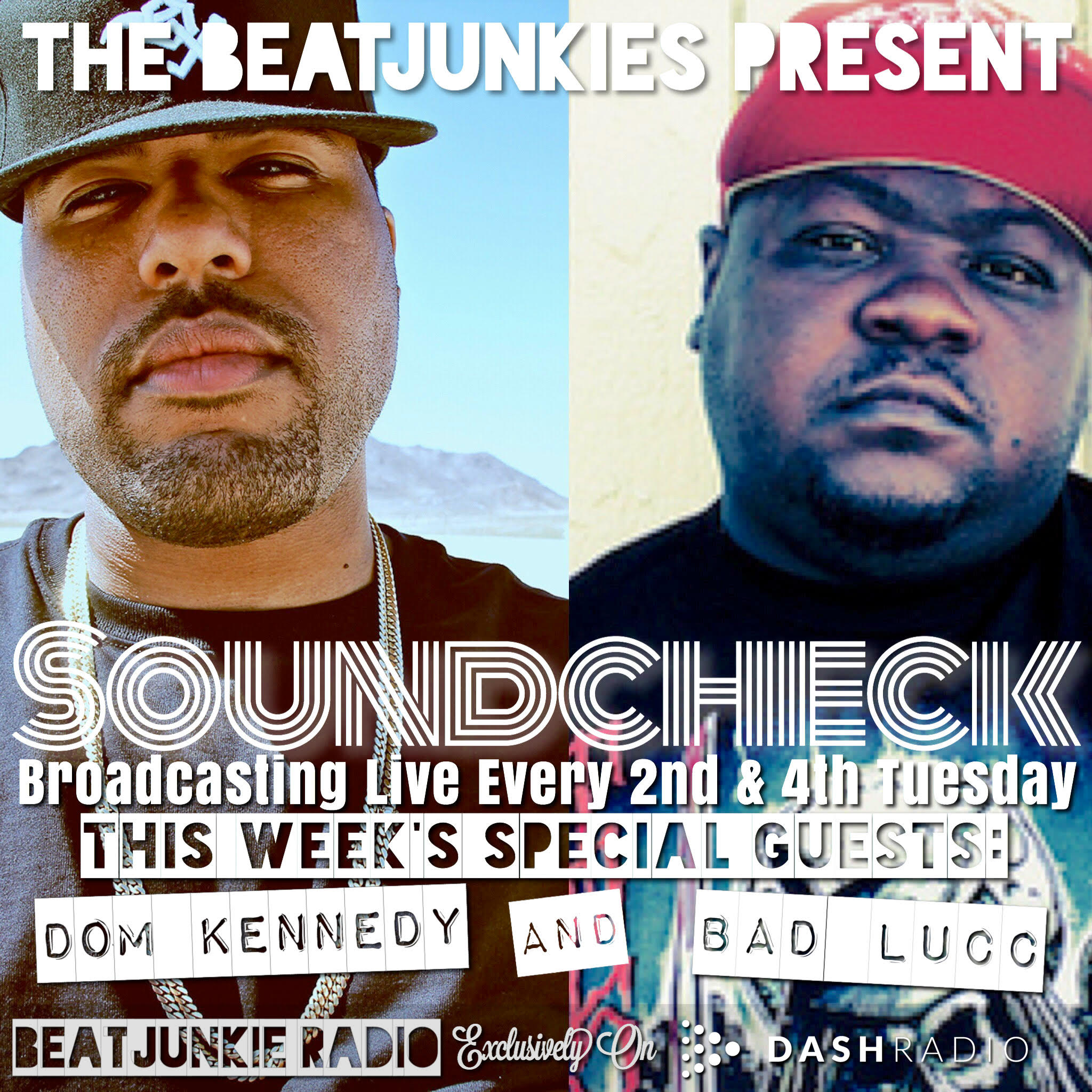 The Beat Junkies present:
 Soundcheck
Broadcasting Live from Los Angeles
 7-10PM
Every 2nd & 4th Tuesdays Of The Month
On The Beat Junkie Radio channel
Exclusively on Dash Radio.
Download the Dash Radio App for free or listen to us on the web: www.dashradio.com.
Soundcheck Ep. 9 (6.23.15) with Dom Kennedy & Bad Lucc
Dj Babu set
Ghostface Killah & Adrian Younge – Get The Money feat Vince Staples
Bilal – Money Over Love feat Kendrick Lamar
Slum Village – Love Is feat Bilal & Illa J
Pete Rock – Heaven & Earth
Black Milk – I Guess
Bilal – Pleasure Toy feat Big K.R.I.T
Jrocc set
Pete Rock – ???
Roc Marci – ???
Krondon God Understand Me feat Shafiq Husein
DaM Funk – Just Ease Your Mind From All Negativity
Starship Connection – Heart Breaker
Tek.Lun – Where I Was Born
Guilty Simpson – Popularity Game feat Elzhi
J-Dilla – Curb Servin instr.
Special Guest Dom Kennedy
Dom Kennedy Medley mix (Dj Babu)
Dom Kennedy – Gold Alpinas feat Rick Ross
Dom Kennedy – We Ball feat Kendrick Lamar
Dom kennedy – 1997
Dom Kennedy – P H (prod by Dj Dahi)
Dom Kennedy – Still Callin
Dom Kennedy – Dream To Me
Dom Kennedy – O.P.M
Dom Kennedy – Daddy
Dom Kennedy – Represent (I like that)
Dom Kennedy Interview
Dom Kennedy – 2 Bad
Dj Babu 2nd set
Frank Nitt – Slippin
Madchild – Devils and Angels
Cormega – No Filter feat Roc Marci
Thundercat – Them Changes feat Kamasi Washington
Camp Lo – Black Jesus
Jay Electronica – Road To Perdition
Special guest: Bad Lucc
Bad Lucc Medley mix (Dj Rhettmatic)
Bad Lucc – Buck, Buck, Buck feat Problem
Dubb Union – Dub You! feat Kurupt & Traci Nelson
Bad Lucc – Amazing feat Problem & Stoney The Dealer
Bad Lucc – Bang Dat Shit
Strong Arm Steady – The Movement (Born Into It remix) feat Bad Lucc
Bad Lucc & Mykestro – The Best
Bad Lucc – Hands Down
Snoop Dogg presents Dubb Union – Western Union feat Bj The Chicago Kid & Daz Dillinger
Bad Lucc – Get Em feat Jay Rock
Bad Lucc – Mr. Officer feat Kay Cola
Bad Lucc – Freestyle Accapella
Bad Lucc – Humiliate
Jrocc 2nd set
JP Morgan – Coming Back JP
Junclassic – No Realer  feat Maniac
Cazal Organism – Maferefun Oshun/Your Love
Knxwledge – Momma
Krondon – ??
Onra – That's Me feat Black Milk
Ras G & the African Space Program – Lord of Lords
Alchemist – Bold
Alchemist – Matzik
Freddie Gibbs – Pimp Hand
Common- Nag Champa
NxWorries – Link Up