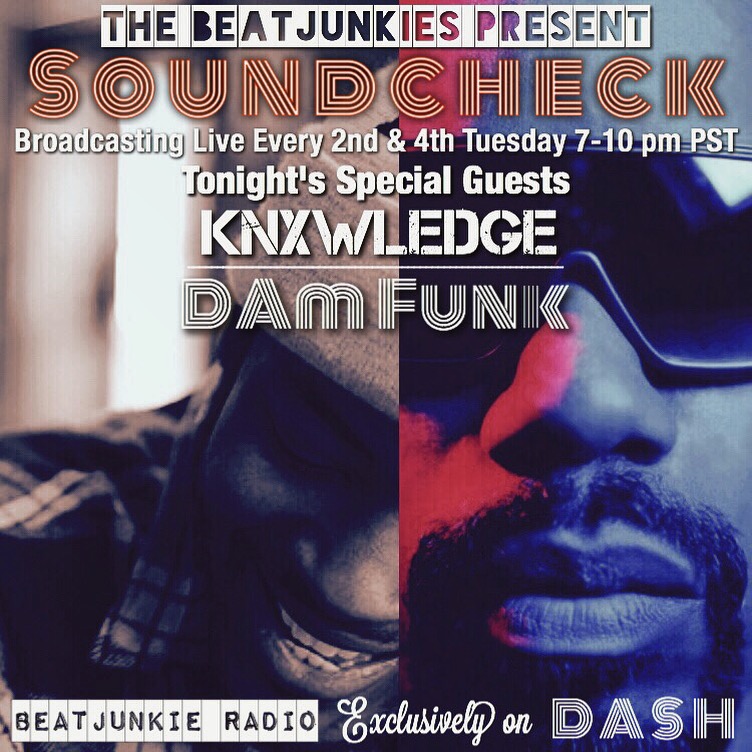 The Soundcheck episode with special guests Knxledge & Dam-Funk is now up on our Soundcloud page. Peep the audio below…
The Beat Junkies present:
Soundcheck
Broadcasting Live from Los Angeles
7-10PM Every 2nd & 4th Tuesdays Of The Month
On The Beat Junkie Radio channel
Exclusively on Dash Radio.
Download the Dash Radio App for free or listen to us on the web: www.dashradio.com.
Episode 3 w/ Knxledge & Dam-Funk
March 24, 2015.
1st Mix – Dj Babu:
Earl Sweatshirt – Huey
Ludacris – Charge It To The Rap Game
Fashawn – Higher
Action Bronson – Falconry
Jay Electronica – Road To Perdition
Rapper Big Pooh – How I Move
ALC x Prodigy – Curb Ya Dog
Slum village – Push It Along feat Phife Dawg
Joey Bada$$ – Paper Trail$
Guest Knxwledge
Kendrick Lamar – Momma (prod. by Knxwledge)
Mix by Knxwledge
2nd Mix – Rhettmatic
Knx x Anderson Paak – Suede
Nikobeats – So Fine
14KT – Adrenaline
Jake One – John Cena Theme
Dert – Derty
Dilated Peoples – Opinions May Vary feat Gangrene
Action Bronson – Terry
Supa Dave West – Dave Beats (inst)
MC Eiht – Shut Em Down feat The Outlawz
Killer Ben x Killa Kali – Thug Kings
Prodigy x Big Twins – Champions (remix)
Consequences – Tuck Your Release
Nottz – Everybody Knows Your Name
Brown Bag Allstars – Rhett Committed Murder
De La Soul – Get Away
Supa Dave West – Dave Beats 14
Dam Funk Interview & Live In Studio Funk Set
Rhettmatic 2nd Mix
Dam Funk & Steve Arrington – Tap That
Bohannon – The Beat (part 2)
Melissa Morgan – Fools Paradise
Charme – George Porgy
D-Train – Trying To Get Over
First Touch – All Because Of You
3rd Mix by J Rocc
Bernard Wright – Just Chillin Out
Yancey Boys – Slippin
Yasiin Bey – Yasiin x Dilla Sunshine
Oh No – Pure Imagination
Axel F – Omega feat Blu
Dirtydiggs – Henchmen feat Killa Kali
Run The Jewels – Job Well Done
Nas – The World Is Yours (Bukas Rollbrett remix)
Quakers – RIP feat. Guilty Simpson
Lootpack – Frenz vs Endz
Chanes – INF
Kan Zulu – Sixteen (BDP – Stop The Violence)
Knx – Let It Shine
Prhyme – U Looz
Jay Electronica – We Made It feat Jay Z