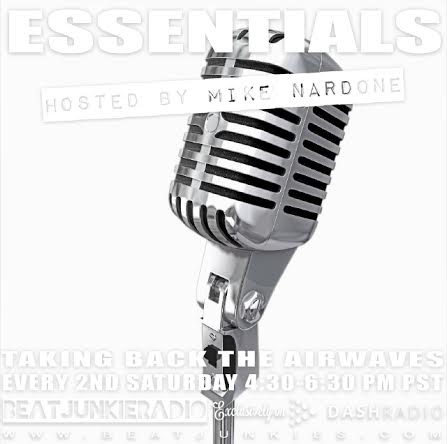 AUDIO: "ESSENTIALS" w/ MIKE NARDONE (JULY 8, 2017) – R&B 1984-1986!
It is an honor to have the legendary LA Hip Hop Radio personality, Mike Nardone return to the airwaves on Beat Junkie Radio. He returns to his roots by debuting his new show called "Essentials" on Beat Junkie Radio.  If you're not familiar with Mike Nardone, he was the first person to start up a college Hip Hop radio show in 1987 at KXLU (Loyola Marymount) in Los Angeles called "We Came From Beyond" as well as having a show on the defunct 92.3 The Beat called "Da Joint" with King Emz.  Mike is the West Coast counterpart of the legendary NY Radio Duo, Stretch Armstrong & Bobbito Garcia. This particular episode, Mike is playing R&B soul from 1984-1986.
Essentials with Mike Nardone will be airing every 2nd Saturdays of each month from 4:30-6:30pm on Beat Junkie Radio, exclusively on Dash. You can listen to Mike's show by either downloading the FREE Dash Radio App from ITunes or Google Play or listen on the web: www.dashradio.com.
Categorised in: BLOG, Media, Uncategorized
This post was written by admin