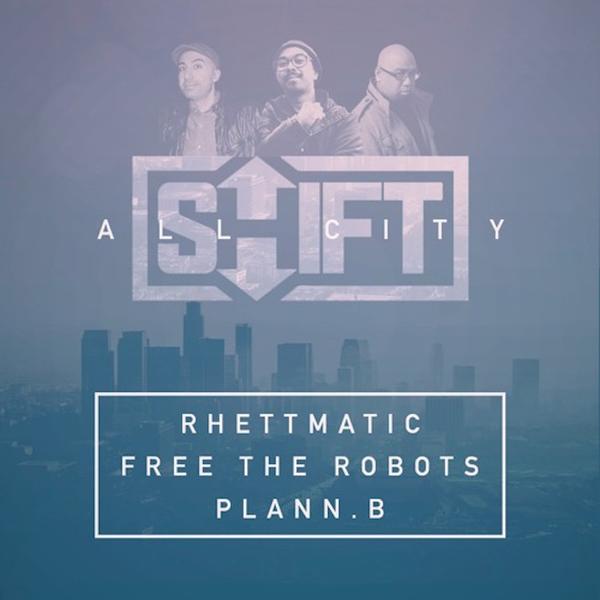 AUDIO: SHIFT ALL-CITY MIX by RHETTMATIC, FREE THE ROBOTS, & PLANN B + SHIFT SAN FRANCISCO
Our very own Rhettmatic as well as his comrades Free The Robots & Plann B have released a special mix in honor of their Shift parties that they have been doing for the past 6 years in both  at The Crosby (OC) & Escala (LA). In the last month, they took their Shift parties on the road to Palm Springs, Las Vegas, & now San Francisco (this Friday, Sept. 4th).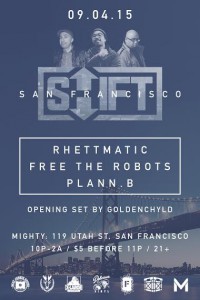 The good people at Okayplayer World Premiered the mix this morning!
"We tried to put together a mix that would sound exactly like a typical night inside Shift…basically an hour of heavy musical ADD. I think we nailed it." That's how Plann.B describes the new hour-long, three-part SHIFT All City mixtape, a joint venture that has him welding his talents to those of Free The Robots and DJ Rhettmatic. In 2009, the three DJs conspired to create a new enterprise that doled out hip-hop, soul, futuristic funk and electro in a format that pulled no punches and honored no idols; a beat music free for all lead only by their brainiac techniques. 6 years on, Shift is as vital as it's ever been and has filled massive rooms alongside the likes of Dam Funk, J. Rocc, House Shoes, Soulection and more.
Summer 2015 has Rhettmatic, Plann.B and FTR taking their show up and down the West Coast, with shows booked in Vegas, Los Angeles, San Francisco and more. Below, Okayplayer very proudly presents a free new mix designed to be a "thank you" for all the support Shift has gotten from the scene. "This is exactly what a night at Shift might sound like," Plann told us. "Enjoy this wild mishmash of boogie, disco, glitchy, experimental beats, breaks, future bass and hip hop."
PART 1: DJ RHETTMATIC
01. Kano – Can't Hold Back (Your Loving)
02. George Benson – Give Me The Night
03. Positive Force – We Got The Funk
04. DJ A1 – Baby
05. Zikomo – Fly Love
06. Sy Smith – Gettin Down (Remix)
07. Black Ivory – Mainline (Flaunt Edwards Edit)
08. Esta – Only One
09. J. Rocc – Star (Remix)
10. Church Boy Lou – Show Me
11. Ant Acid vs. B.T.W. – Party Time (Re-Edit)
PART 2: FREE THE ROBOTS
01. Cohen Beats (ft. Shafiq Husayn) – Rimona
02. Free the Robots – Take Flight
03. Danny Scrilla (ft. Om Unit) – Hunch
04. Co.fee – Mango Pickle Edit
05. Betty Ford Boys – Two
06. Chief & Dehab – It's All About Love (Flipped)
07. Cazal Organizm – Ask My N***a Cazal
08. Zackey Force Funk – Out of my Mind
09. Danny Drive Thru – VirtuaRap
10. Sapan Chakraborty / R.D. Burman – Baby Let's Dance Together
11. Dimlite – Fridge Note
12. Free the Robots – Unreleased Flip (Sorry)
13. Pigmeat Arkham – Here Comes the Judge
14. Roy Ayers – Searching
15. Keren Dun & Cohen – What's on Your Mind
16. Golden Hands – Country Scenes
17. William Onyeabor – Body & Soul
PART 3: PLANN.B
01. DJ Rashad & DJ Spinn – Luchini VIP
02. MNDSGN – Maintenance
03. Mikos da Gawd (ft. Mr. Carmack) – Get Lo
04. Penthouse Penthouse – Going Out
05. Wantigga – Like That
06. Kaytranada – Killa Cats
07. Jon Wayne – The Come Up (Part 2)
08. Astronote – Liquid I
09. The Clipse (ft. Camron & Pharrell) – Popular Demand
10. Thugli – What Happened?
11. Jailo – Smoke ('Til I'm Gone)
12. Milo Mills – Sweeter Than Rice Cake
13. Nikes x Lefty x Moondoctor – $mokin Ha$h
14. Patrick Brian – Gold Card
15. Missy Elliot – Work It (R4 Edit)
16. The Freshest – Buggin' (Kutcorners & Marvel Canadian Club Edit)
17. Jay-Z – N*gga What, N*gga Who
18. Raven – Is It Real?
19. Kendrick Lamar – 2U (C. Justice Bootleg)
Categorised in: Events, Media, Uncategorized
This post was written by admin