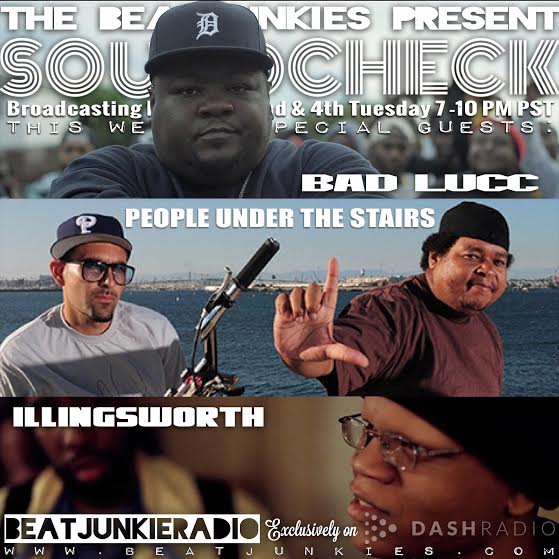 AUDIO: SOUNDCHECK EP. 19 (11/24/15) w/ BAD LUCC, PEOPLE UNDER THE STAIRS, & ILLINGSWORTH
The Beat Junkies present:
 Soundcheck
Broadcasting Live from Los Angeles
 7-10PM PST
Every 2nd & 4th Tuesdays Of The Month
On The Beat Junkie Radio channel
Exclusively on Dash Radio.
Download the Dash Radio App for free or listen to us on the web: www.dashradio.com.
Tonight's guests (11.24.15) is Bad Lucc, People Under The Stairs, & Illingsworth (Street Corner Music)
SOUNDCHECK EP. 19 (11/24/15) w/ BAD LUCC, PEOPLE UNDER THE STAIRS, & ILLINGSWORTH by Thebeatjunkies on Mixcloud
Dj Melo D set
14KT – Holy Moley
Rapsody – Godzilla
Axel F – Day ft Tristate
Nikobeats – You're My Starship
Step Brothers – No Hesitation
Sean Price – Figure More
The Meters – Handclapping Song
Danny Brown – Hot Soup Commercial
Danny Brown – Head
Mentplus – All My Friends
Mentplus – Stormy Nights
Camp Lo  – Bright Lights
Gangrene – Driving Gloves instr
Special Guest – People Under The Stairs
PUTS – Runaway ft Greg Nice
PUTS – Saturday Again
Thes One vinyl set
J.Rocc set
Jansport J – Ain't Nobody Better
Tall Black Guy – JBs Suite
Camp Lo  – This Is It
Freddie Gibbs – Extradite ft Black Thought
MED x Blu x Madlib ft Anderson.Paak
Yasiin Bey – Poorest (Niggas In Paris)
Madlib – Hey Ron
`
Special Guest – Illingsworth
Illingsworth Live Beat Set
Rhettmatic set
Phat Kat – All Madden
Redman – Bars
J-Dilla – Dillatronic
Lex The Q.U Wordsmith
Guilty Simpson – RIP
MED x Blu x Madlib – Birds
Pete rock – Beat Goes On
Jake One – Jake Slaps Lecter
XL (El Da sensei x Sadat X) – We Must Stand
Magnif  – The Last
KRS1 – Sound Man
Special Guest – Bad Lucc
Bad lucc  – Hardcore Ready
Bad lucc  – Cali Get The Money ft Punch
Bad lucc  – Ski Mask ft Rapsody
Talib Kweli x 9th Wonder – Pay ya Dues ft Bad Lucc & Problem
Categorised in: BLOG, Media, Uncategorized
This post was written by admin