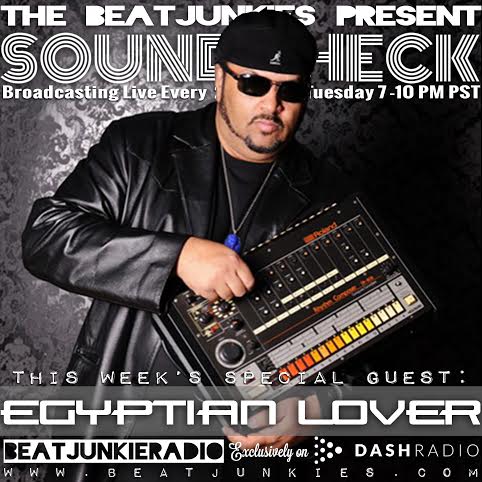 (UPDATE) AUDIO: SOUNDCHECK EP. 20 (12/8/15) w/ THE EGYPTIAN LOVER
The Beat Junkies present:
 Soundcheck
Broadcasting Live from Los Angeles
 7-10PM PST
Every 2nd & 4th Tuesdays Of The Month
On The Beat Junkie Radio channel
Exclusively on Dash Radio.
Download the Dash Radio App for free or listen to us on the web: www.dashradio.com.
UPDATE: Due to certain policies from Mixcloud that the audio cannot be played, you can download the mp3 from this link: https://www.mediafire.com/?d8u3xw5855q7noj
SOUNDCHECK EP. 20 (12/8/15) w/ The Egyptian Lover by Thebeatjunkies on Mixcloud
Dj Rhettmatic set
Invisibl skratch Piklz  – Classic Moog
KRS One – Drugs Won
Gangrene – Sheet Music feat Sean Price
Rapper Big Pooh & Nottz  – Prom Season
Redman – Dopeman
Scud – Scud Mig Beat
Bad Lucc – B.O.M.B
J-dilla – Dillatronic 22
Black Milk – Winters
Guilty Simpson – The Time Is Now
Phat  Kat – Phat Kat ep track 2
MED×Blu×Madlib  – The Stroll
Wiki -Hate Is Earned (prod by black milk)
Wordsworth & Donel smokes – F.U (fingers up) feat Blu
Black Milk – Need instr
Special guest: The Egyptian Lover
Egyptian Lover – Dubb Girls
Egyptian Lover – Popper's Anthem
Egyptian Lover  – Girls instr
Egyptian Lover  – The 808
Egyptian Lover  – Got To Get It
Egyptian Lover – You're So Fine
Various – The Glove Meets Egyptian Lover
Egyptian Lover & Uncle jam's army – Dial A Freak
Egyptian Lover – Beatjunkies – Egypt Egypt
Egyptian Lover in the mix
Egyptian Lover  – Into The Future
Egyptian Lover – Seduced
J.Rocc mix
J Dilla – Dillatronic 12
M.O.P – 187
WhiteBoiz – Live From The Mothership
Parliament – Mothership
tuamie- Water Colors
tuamie – Slow Jam
Cam – Love Junkee a capella
J-Dilla – Dillatronic 25
Gangrene – Just For Decoration
Barry white -Paul Quin College
Westside Gun & Conway -Richer Porter
NxWorries – Droogs
Nikobeats – To Each His Own
Black milk – Computer Ugly Ugly
Black milk – Mary Jane Candy
???
?? ?
??
Chill Rob G – The Power a capella
Mantronix – King Of The Beats
Categorised in: BLOG, Media, Uncategorized
This post was written by admin