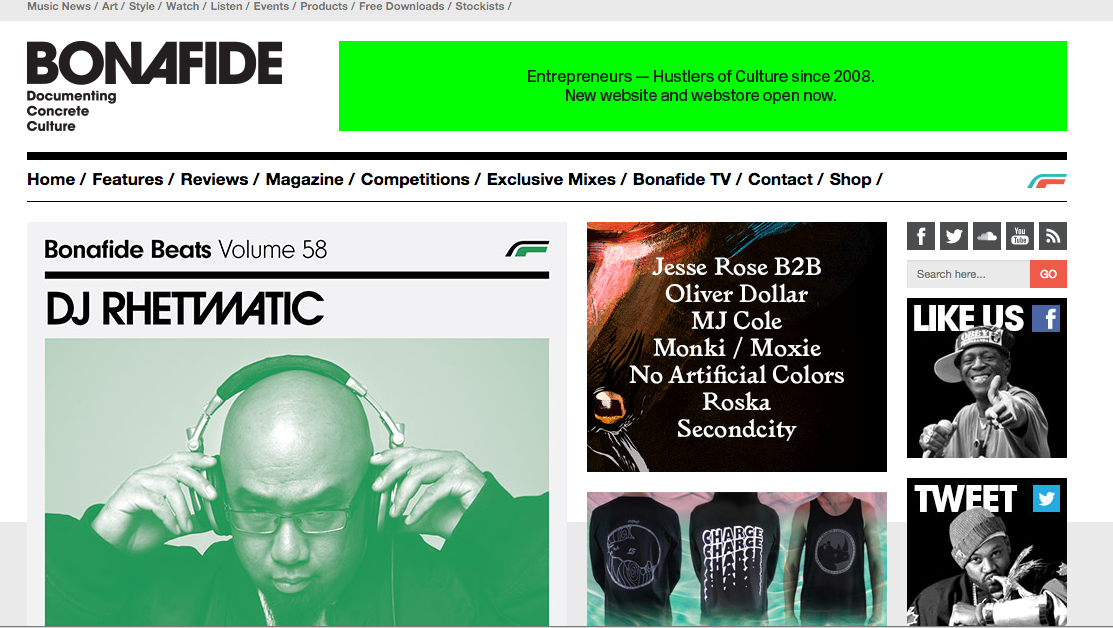 FREE MIX: EXCLUSIVE RHETTMATIC MIX FOR BONAFIDE MAGAZINE UK – "FLAVORS FROM BEATJUNKIES.COM VOL. 3"
Our very own Rhettmatic was featured today on Bonafide Magazine, a trendsetting music/culture magazine website from the UK.  He did an exclusive mix for the website called "Rhettmatic x Bonafide Beats" aka "Flavors From Beatjunkies.com" Vol. 3.
"22 years on and the group shows no sign of resting their hands. Having celebrated their 20th anniversary in 2012, they've opened up their Record Pool which allows people to buy their own exclusive Beat Junkie approved edits. And of course there's this DJ Rhettmatic mixtape, exclusive to Bonafide, – Flavours from BeatJunkies.com Volume 3, is, as you'd expect, the dopeness."
Enjoy!
1. 5. Fingers Of Death 1 – Dj Paul Nice (Rhettmatic Scratch Intro)
2. Leflaur Leflah Eshkoshka (Beat Junkie Sound Edit) – Heltah Skeltah feat. O.G.C.
3. Resurrection 95 (Extra P Remix) (D-Styles Edit) – Common
4. Black On The Block (Melo-D Edit) – Pete Rock & CL Smooth
5. Funky Drummer (Dj Day 'Cut Out The Lights' Mix) – James Brown
6. Give It Up (J.Rocc Edit) – Kool & The Gang
7. Alright (P-Luv Intro Edit) – Janet Jackson feat. Heavy D
8. Body Heat (Flaunt Edwards Edit Long Version) – James Brown
9. I Hear Music (P-Luv Intro Edit) – Ultimate Touch
10. Awake O' Zion (J.Rocc & Flaunt Edwards Edit) – Twinkile Clarke
11. Good Life (Melo-D Edit) – Inner City
12. Got A Love For You (P-Luv Edit) – Jomada
13. Gurubeats 2 (Who You Stealin From) (Rhettmatic Edit) – Guru (Arthur Baker & John Robie)
14. Numbers (Live Version) (Melo-D Edit) – Kraftwork
15. Mirror Vibe (Kendrick Lamar vs Cashmere Cat) – The Hood Internet
16. Batteria Break – Gamblin Pete
17. Are You That Somebody? (P-Luv Edit) – Aaliyah
18. Veneno (Phoreyz Edit) – Beauty Brain
19. Braces Tower Dub (Melo-D Edit) – King Tubby
Categorised in: Media, Uncategorized
This post was written by admin