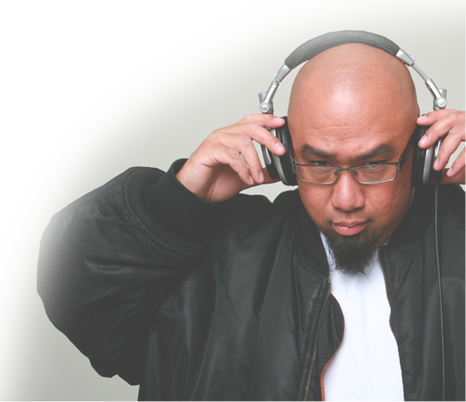 RHETTMATIC
A major force behind the creation of Southern California's first turntable band, the Beat Junkies, is a multi-faceted musician known to the world as DJ Rhettmatic. Born Nazareth Nirza, his artistic contributions to the music industry have placed him, along with his fellow members of the Beat Junkie crew, at the top of the DJ universe. Possessing unstoppable visions of excelling in this art form, Rhettmatic unites music enthusiasts around the world by sharing his unparalleled skills and talent. His personal discography of musical achievements presents a host of successful accomplishments, and by applying his creativity and dedication, his record of ingenious masterworks will continue to grow.
Rhettmatic began his DJ career in 1983, with Double Platinum, a DJ group based out of Cerritos, CA. As one of the original members of the Beat Junkie crew, he played a major role in introducing Southern California's first turntable band to global audiences. Rhettmatic's unique style encompasses the many elements of a multifaceted Hip Hop DJ. As an accomplished scratch musician, as well as an explosive party/club DJ, Rhettmatic demonstrates his versatility by using the turntable as his musical instrument. His talent and musical expertise also extends into the realm of producing beats that helped him earn recognition and rewards well deserved. Citing a number of distinguished influences, Rhettmatic credits those individuals that greatly impacted the Hip Hop/DJ culture as honorable talent who helped shape his musical style. Inspiration derives from a spectrum of legends, including Grandmaster Flash, Jazzy Jeff, Joe Cooley, the now defunct Invisibl Skratch Piklz, and the X-ecutioners. Rhettmatic highly acknowledges fellow Beat Junkie member, DJ Curse, as his leading mentor.
Rhettmatic seized numerous triumphs both as a musical performer and as a creative genius. He claimed the titles of Disco Mixing Club (DMC) West Coast Champion (1996) & International Turntablist Federation (ITF) 2x Team World Champion (1997/1998)….Rhettmatic's innovations produce a boundless list of prized accomplishments. He has worked with almost everyone in the Hip Hop community, doing production, scratches, remixes, & performances with the likes of Peanut Butter Wolf, J Dilla, Talib Kweli, Madlib, Cypress Hill, Dj Premier, Aloe Blacc, Mayer Hawthorne & musical genius Adrian Younge.  Rhettmatic helped founded and is the Dj/Producer for the LA based Underground Hip Hop Super Group, the Visionaries in 1994.  His current projects that he has put out in the past few years are the Crown Royale album with Michigan's wordsmith – Buff1, a Dj/ Percussionist show/mixtape project with the one & only Eric Bobo of the mighty Cypress Hill, & a joint project with the legendary Cali MC, Ras Kass called "A.D.I.D.A.S.". He is also currently working on a producers' album with J-Rawls of the Lone Catalysts, and recently formed a group with the legendary Dj Prince Paul of De La Soul/Handsome Boy Modeling School fame & Company Flow's Mr. Len named The Dirty Disco Squares.
As with each passing year, not does only his skill and reputation as a Dj grows, but Rhettmatic's reputation as an up and coming producer and his passion for musical knowledge and musicianship tends to grow as well. With all these components, hopefully one day Rhettmatic will be acknowledge along with the greats in Hip Hop music history.
www.twitter.com/rhettmatic
www.instagram.com/rhettmatic
www.facebook.com/djrhettmatic
www.mixcrate.com/rhettmatic
www.soundcloud.com/rhettmatic
Categorised in:
This post was written by admin