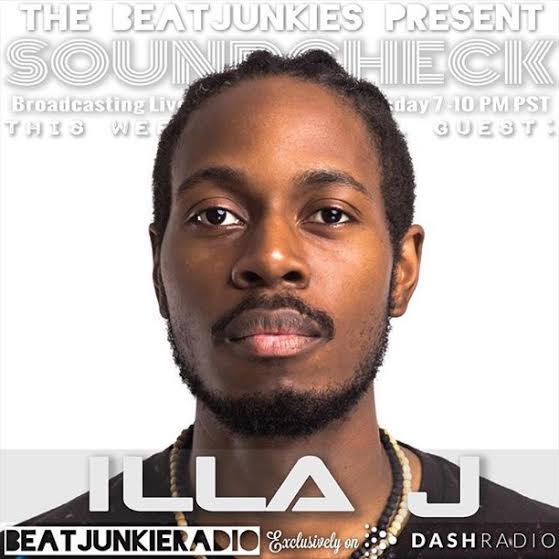 SOUNDCHECK EP. 23 (1/26/16) with ILLA J
The Beat Junkies present:
 Soundcheck
Broadcasting Live from Los Angeles
 7-10PM PST
Every 2nd & 4th Tuesdays Of The Month
On The Beat Junkie Radio channel
Exclusively on Dash Radio.
Download the Dash Radio App for free or listen to us on the web: www.dashradio.com.
Special Guests (1.26.16) is Illa J
SOUNDCHECK EP. 23 (1/26/16) with ILLA J by Thebeatjunkies on Mixcloud
DJ Rhettmatic set
DITC – Diggin Number
Busta Rhymes – In The Streets ft MF DOOM
Ron Jon Bovi – Time Tunnel
Wiki  – Hate Is Earned
XL – We Must Stand
6th Generation – The Way Of The Sixth
Redman – Bars
Prhyme – High and Lows ft MF DOOM
Anderson.Paak – The Waters ft. Bj the Chicago kid
Busta Rhymes – We Home ft L.O.N.S
Torae – Get Down
Kanye West – No More Parties in LA ft Kendrick Lamar
Villain Park – Brain Cells
ScienZe – Georgia State
Dave East – G Shit
J-Dilla – Dillatronic 10
Anderson.Paak – Come down
Ghostface Killah – Get The Money
Pete rock – clap ya hands
J-Dilla – dillatronic 05
Dj Babu set
Black Milk – For 4ever
Sean Price – Soul Perfect
Anderson.Paak – The Season/Carry Me
Cam'ron – U Wasn't There
Linear Labs – Hands Of God ft Rza
Smoke Dza – Where Its At
Jaylib – Heavy (Chronic Mix)
DITC – Make Em So Proud
KRS1 & Buckshot – The Way I Live
Murs & 9th Wonder – The Battle
Your Old Droog – Forty deuce
Nxworries – Link Up
Joell Ortiz x !llmind  – Six Fo'
J.Rocc set
Curren$y – Forecast
Cohen – ??
De La Soul – Skip To My Loop
Sim-E – Heatstroke ft Strong Arm Steady
Tribute To Scratch
Mobb deep – Give Up The Goods
Mobb deep – Esther Phillips – That Al
Slum Village – Raise It Up *lug it up
Slum Village – Ease Up Off Yourself
Kareem Riggins – ???
Trouble Knows Me instr
Blackstar- You're Welcome
Junie – Junie III/Suzie Super Groupie
Philip Mitchell – I'll See You In Hell
The Upsetters – Freak Out Skank
Westside Gunn & Conway – Richer Porter
Tuamie – Sugar /Ghostface
Hit-Boy – Divine Guidance
Mr.Choc set
Treach – Let Me Tell You Something ft Bumpy Knuckles
Ras Kass – The Chase ft inDjnous
Sean Price – STFU pt.2
DITC – New Wave
Kanye West – Real Friends ft Ty dolla $$$
Daz n Snoop – Six N Da Morning feat Kurupt
Slum Village – Conant Gardens
Beastie Boys – Hold It Now
Redman – Beastin'
Washeyi Choir – Black Tux ft Planet Asia & Tristate
Guilty Simpson – ??
Czarface – Night Crawler ft  Method Man
Categorised in: BLOG, Media, Uncategorized
This post was written by admin