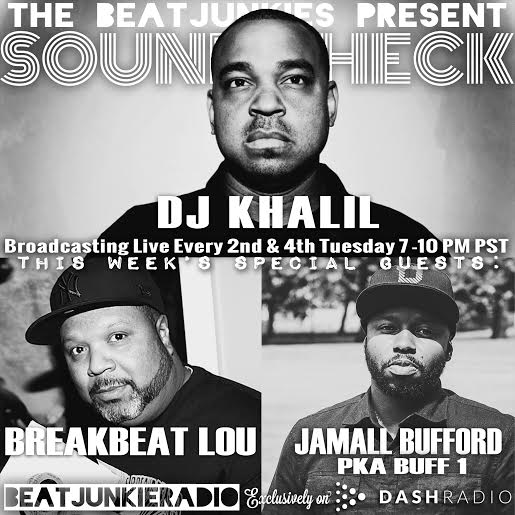 (AUDIO): SOUNDCHECK EP. 15 (9.22.15) w/ DJ KHALIL, BREAKBEAT LOU, & JAMALL BUFFORD
The Beat Junkies present:
 Soundcheck
Broadcasting Live from Los Angeles 
7-10PM
Every 2nd & 4th Tuesdays Of The Month
On The Beat Junkie Radio channel
Exclusively on Dash Radio.
Download the Dash Radio App for free or listen to us on the web: www.dashradio.com.
SOUNDCHECK EP. 15 (9.22.15) w/ DJ KHALIL, BREAKBEAT LOU, & JAMALL BUFFORD by Thebeatjunkies on Mixcloud
Soundcheck Ep. 13 (9.22.15)
Special Guests: Dj Khalil (Self Scientific), Breakbeat Lou, & Jamall Bufford
Dj Rhettmatic Set 1:
Maticulous – Black Hoodie Rap ft Lil Fame
Mac Miller – Pet Sounds ft Sean price
Dj Soko  – Land Mine ft Rasheed Chappell
Guilty Simpson – Detroit's Son
Talib  Kweli – Pay Ya Dues ft Problem & Bad Lucc
White Boiz – Learn Tho
Dave East – Forbes List ft Nas
Guilty Simpson – Power Outage ft Spacek
Killa Kali x Dirtydiggs – Kal Hancock
Magnif – The Last prod. by j-dilla
MED/Blu/Madlib – The Stroll ft AMG
Nikobeats – The Picture
Lyric Jones –
Special  Guest – Jamall Bufford
Authentic Mic League – Got Em Sayin ft Invincible
Buff1 – House Of Horrors
Jamall Bufford – Living Room Flo
The Black Opera – Sleep Tight
Buff1- Classic Rap
Crown Royale – Get It Up
Buff1 – Beat The Speakers Up
Buff1- Real Appeal
Buff1 x Kensaye – Memories
Crown Royale – Stratasphere (Exclusive)
Dj Rhettmatic Set 2:
Black Milk – Budds
Mentplus  – DillaCation
Pete Rock – My my Baby
Gangrene – Hot Pillow
White Boiz – Suffering Suckatashe
QNC – Demo
Pete Rock – Make Me Feel Like
Dj Soko – Kyle Reese ft Guilty Simpson
Pete Rock – You Know Dat
Special guest – Dj Khalil
Self Scientific – Good Evening LA
Self Scientific – State Of A Man
Aloe Blacc  – The Man
Nas – What It Is (Esco let's go)
Evidence – All Said & Done
Jay-Z – I Made It
50 Cent – I'll Still Kill ft Akon
Self Scientific – Car Culture feat Mitchy Slick
Eminem – Talkin' 2 Myself ft Kobe
Special Guest: Breakbeat Lou with a special appearance by Peanut Butter Wolf
Dj Babu Set
Sean Price – Soul Perfect
Big Boi & Phantogram – Fell In The Sun
Your Old Droog  – Listen
DOOMSTARKS – Lively Hood
Capone-n-Norega – Pizza
Jay Electronica – Holiday
Breakbeat Lou Set
Categorised in: Media, Uncategorized
This post was written by admin