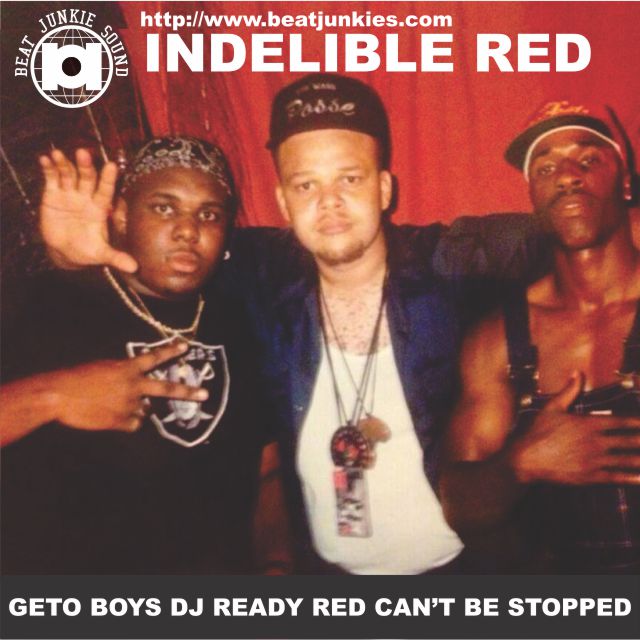 Indelible Red: The Geto Boy's DJ Ready Red Can't Be Stopped
RC: Ok Ladies and gents, this is DJ rchecka, and on behalf of the Beat Junkies and myself, I'm honored to be talking with the Musical Enforcer, the legendary DJ Ready Red of the Geto Boys.  What's up Ready Red!
RR: What's going on DJ rchecka?  What's happening my long time brother and Friend?!
RC: Sall good man, I'm very happy to be speaking with you.  I've been doing my homework, going through the archives and I dug up some good questions to drop on you!  So I hope you're ready to go back to that time.
RR: Hey, Ready Red, comin at ya!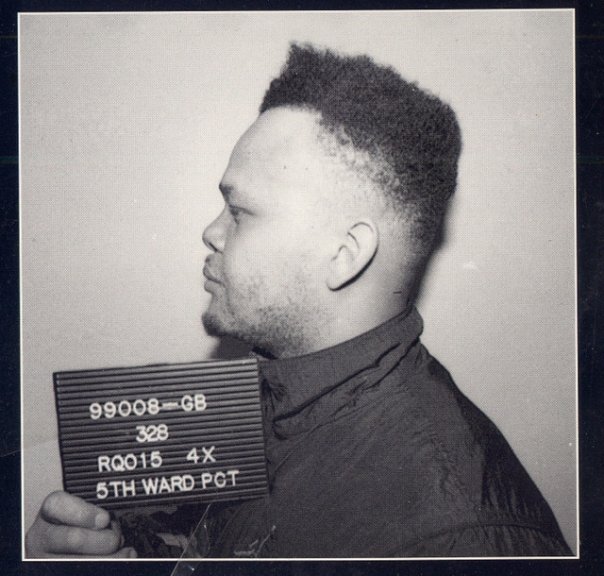 RC: Haha, alright so we gotta start right at the beginning of course…  You were with the Geto Boys from I believe 87 to 1991, does that sound about right?
RR: About 1992 some say 93, I got released in 93 so let's go with that.
RC: Ok, so the story goes that back in 87, you were in Jersey and got a call from your sister to come down to Texas and help her out with some boyfriend problems, and that's the phone call that basically got the ball rolling for you with the Geto Boys, can you elaborate on that?
RR: Yes, this would have been December 1986, she says "Hey, I need you to come somewhere with me."  I said "What's going on?"  "I need you to grab your stuff and come down here."  So I said OK.
I planned on being gone at least a month.  So I got to Houston, and meet this guy she was still with.  We was cool for the first couple months then he started tripping out so I had to put some things on.  I had to whoop his ass.  And I just met James Smith the owner of Rap-A-Lot Records that same night.  Later on I asked him to loan me a couple of dollars to help me out, and that's how I got down.  I got a thousand dollars to get down with the Geto Boys since he helped me get my sister out of a bad situation.
RC: So then after that did you have a DJ Battle in Houston that really got things rolling for you?
RR: I had a DJ battle down at the world famous Rhinestone Wrangler on Murworth, right up the street from the Astrodome off of Main.  So I went up there and I did my East Coast, Trenton, New Jersey style of DJing, which is pretty much our style of DJing, with a Philly Twist, and New Jersey Twist, being that I'm from Trenton, and there's a world wind of culture there in Trenton between Philly and New York, so this was a whirlwind of techniques and ways that you can attack the art of turntablism.
RR: …So yes, I rocked them, and that's when I met Jukebox and the late NC Trahan,  and that's how I got down.
RC: So that's how it started.  Just like that you were a part of the Beat Junkies, Err, whoops!  That will be edited… I mean a part of the Geto Boys.
RR: (Laughs) I wouldn't mind being a part of the Beat Junkies, the Beat Junkies are pretty cool!  But yeah, that's right when I came a part of the Geto Boys.

RC: Ok.  Now you mentioned briefly NC Trahan, and like I said I did my homework and dug way back thru the archives, and back in the day, on oldschoolhiphop.com's message board, you mentioned something that stuck with me.
"NC Trahan was big part of the GB early days before I came down to Houston he let us practice at his crib all day and nite never said a thing. In 1988 while shooting Raheem's video for A&M Records, NC was killed at a gas station by a Punk Asss Bytch Mutha Fucker from what I hear it had been a knuckle up at the club and like a 1 hr later he was dead by a shotgun blast to the face!
RR: Yeah that was True.
RC: (Continues)  "I was back home in NJ around the holidays I got a call that he been killed!. Vicious Lee of the Def 4 got arrested that night for trying to get to NC."
Then you mentioned… "Somebody always got killed during the making of a GB album! RIP Big C."
That last line is pretty stunning if you think about it.  Can you build off that part?
RR: Well first person that I knew that was good people was Kenny Ray and he got shot and killed on the Making Trouble album, so we always used to wonder, if during the making of a Geto Boy's album, "Who's Next?"  I knew him very briefly but for the year to 6 months I knew him, I knew he was folks man.
RC: I see.  Well I'm looking at that "Grip It From That Other Level" cassette tape right now, and I see that Rest In Peace note you put on the cover of that.   So that album must have been dropped right after that happened.
RR: Yeah.  He was killed right before that.
---
RC: Yeah, ok.  Well let's change gears a little bit.  You also briefly mentioned something about your early sampling of the movie Scarface, Were you the first person to sample that movie for a rap song?
RR: It's been duly noted that I am the first person to touch that movie, Scarface, Al Pacino's voice.  So yeah, I am.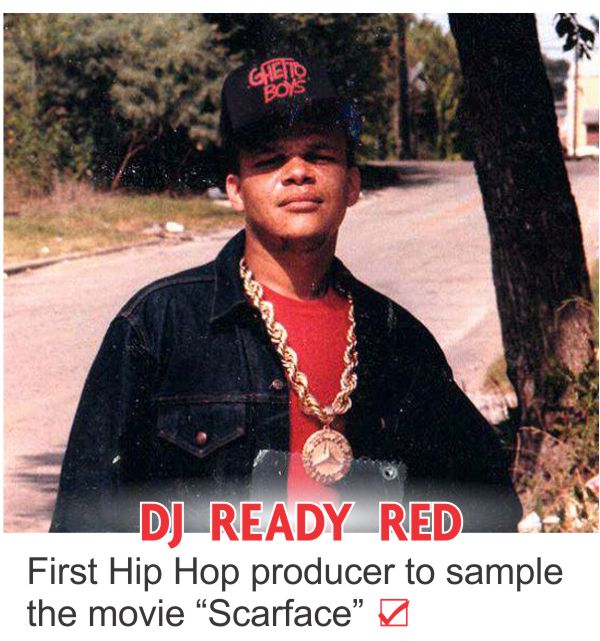 RC: You are?  Ok, well that's pretty damn cool.  Well I was just listening to that tape and I notice how you peppered his voice in that album a few times.
RR: It filled in the gaps.  When I started working with the Geto Boys they were already wrote half of "Making Trouble" and I was trying to come up with something that woke it up.  When Johnny C came along, I came up with "Assassins" with Johnny, and "You Ain't Nothing."
Then I was playing around, and Bushwick Bill came over, and I was watching Scarface, and I just made a bass beat on a TR-808.  And the part where Sosa is talking to Tony and he throws my man Omar my man out of the helicopter window…  Right around that part, that's when Bill comes along and sat on my start and stop pedal, which basically recorded "All I have in this world is my balls and my word" and I heard something.
I was like "Oh Shit!" so I rewound my VCR, I got ready, punched it, and got "All I have in this world…"
I said, "Bill, did you hear that?" "He goes.  "No man, what are you talking about I didn't hear anything."
So I immediately went to work, sampled on the Studio 440 "All I have in this world, is my balls and my word" "and then I just started playing around with "All I have… All I have… All I have… in this world this world this world." And that's how I made Tony Montana, AKA Al Pacino start singing in rhythm to the 800 drum machine.
RC: Nice!  So on that same album you got the song "Gangster Love".  Anyways there are 2 versions of that song, one sampling Steve Miller Band's the Joker…
RR: Yeah one would be Johnny C and my version's using Steve Miller, and when Rick Rubin wanted to do the song and remix it later, he chose Lynyrd Skynyrd's "Sweet Home Alabama," so Rubin's version came later.
RC: Ok, I see.  So was it just sample clearance issues with Steve Miller Band or artistic differences or what was it that made you guys remix it like that?
RR: Well some bullshit I heard, that Steve Miller was trying to make a comeback, that he enjoyed the song but he didn't want to be attached to the shit, so we had to give him some 250,000 dollars, I don't know, it was some bullshit that he got all our money, I never saw any of that money.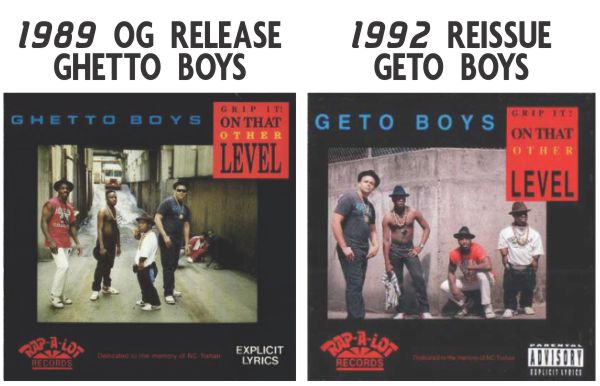 RC: Alright, let's talk a little bit later on.  Eventually you guys hooked up with Rick Rubin.  Is it true that Rick Rubin respelled your name GETO?
RR: Yes, it was Ghetto, which is the common spelling, which is an old Jewish term, and he changed it more ghetto to the G-E-T-O.  So you know, being Rick Rubin, a man down with Def Jam, and Russel Simmons, and all the hip hop royalty, so what you gonna do?  I ain't gonna argue with Rick.
Cuz after that, damn we hit it big, you know?
RC: Yeah, no kidding, that was a smart move.  I think some of the younger cats I talk to sometimes don't realize there was a different spelling of the Geto Boys at one point.
RR: Yeah, so you got the old rare first press of that tape with that spelling.  That's Ready Red with the sun shades on!    That right there is the first press, and if you notice, that's Jazzy Jay rolling dice in the background!
RC: Hey, I was happy to land that tape for sure.  That one I have been looking that for a while!  I guess that album never got dropped on vinyl did it?
RR: No.  I only had about 4-5 special Rap-A-Lot party wax pieces of that.  There's a few radio versions and a some dirty versions that I could spin for the shows.  So, if you see that Rap-A-Lot wax, with that on there, that's Ready Red's!
RC: Oh, ok so those are show vinyl versions?
RR: Yeah, just for my shows.
RC: Cool, I never even knew those existed.
---
RC: So let's fast forward a bit, and talk about closer to the end of your years as one of the Geto Boys.  You became more aware of the greedy nature of your label Rap-A-Lot, and their lack of fair pay.
RR: For that I have to start at the album "Making Trouble" which was good enough to get us on the Fat Boys "Wipe Out" Tour.  We went out for days with Fat Boys, Salt N Pepa, Ice T,and we went thru about four or 5 cities, and we blew up.  Eventually I found out that we sold 100,000 copies, but I was told we only sold 20,000, and that was the start, being an upstart label from the South.
So I was able to get an apartment, and an SP1200 that's when I started making "Grip It".  Then the personnel change came right after we had a 12" out called "Be Down".
Believe it or not, the owner and his helper went to LA for a meeting with some people and came back and said "Hey man, we're gonna scrap this album that you're working on, and we're gonna become "Gangster Rappers" and we are gonna talk about some stuff, blow, this and that, blah blah blah, whoop, whoop, whoop…
And Johnny C says "Yo man, I'm not with this."
So Box writes the first rhyme to "Mind of a Lunatic" "Paranoid, sitting in a deep sweat.  Thinking…"
That joint right there, but then in the middle of us recording it with Willie D and then finally Scarface, and Bill, Jukebox says to me "Yo man, this shit is crazy!  Man, I ain't with this!" So he quit.
Then we became the Geto Boys with Willie D Scarface and Bushwick Bill and myself.
RR: So go down to Jay's ranch in Praireview, and we put together the historic album called "Grip It On That Other Level" and that's how we started touring, Detroit, Chicago, Down South, Memphis, we was going everywhere man.   This album really put some light to what was going on in Houston, so I'm proud, of everything before that and after that.
But, then I was like, "Yo man, where's the money at." Cuz we was getting peanuts and crumbs but where's the money?  Cuz every time royalties come around we get nothing, so I started looking at the business end of this stuff, cuz I was like "You know what?  I been here for many years.  I've given this man everything he could ask for.  I've given him some of my best work and yet I'm not being compensated.
So I went to them with this, and challenged them, and they wanted to pay me in installments, but I needed all my money which was owed, and that was 29,000 dollars.

RR: So anyways, Little Jay got mad, got pissed.
I hear, "Oh man, Little Jay is pissed" I say "well shit, I'm pissed too!"
And right around the time I just met my wife, future wife.  Well yeah, I was getting disillusioned anyway when we started working on the "We Can't Be Stopped" album.
So Scarface come over and we was digging thru my crates, and I been trying to work with a song from the Tough Guys soundtrack, and I only bought it cuz it was Tony Williams on the cover and it was Isaac Hayes.
So I was like, Ok, so we played around, we found the joint called the jam.  So we started putting it together and during the time of that, and I was telling Face, "Yo, if you hear something, I can put it together." So on that song we we did it.  During the time of that I became very disillusioned, I thought ,  "Yo I won't be getting anything out of this"
So I called all the Geto Boys up and told em what was going on, and later on that night, Jermain comes in there with the Get Down Boys, which is his thugs and shit, and shit got kinda crazy, and I left that night, and I haven't looked back ever since.
And I seen 20-30 years later, that nobody got nothing out of that.  They got famous, but this man got all the money.
So I'm glad I left.  I went through some changes, after I did leave, I didn't get no credit on that album.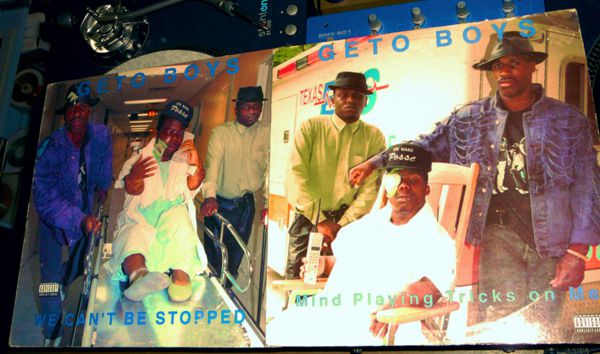 RR: And on that album, my friend got shot in his eye, and they put that shit on the cover!
I'm not gonna be on the album cover with my friend's eye hanging out.  No matter what!  I just ain't that fucked up.
And if I done sat down with you rchecka, I done met your mother and your family, and this and that, how I hell am I gonna explain "Oh yeah, Bill got shot in his eye, but yeah we needed an album picture." You know?
And that shit was crazy to me, and it's crazy now.
People come up to me and say "Don't you be regretting not being on the album cover?" and I go "No, not at all!" and I'm gonna stick with that man.
RC: Of course, man.  Of course!  I can't imagine that kind of anguish that night that you were feeling and for this guy to be like "Yeah just get in the picture" it's basically just greed.
RR: Yeah.  I was freaking.  I been in between 2 guns pulled on me.  That night I'm like Yo this ain't what I'm signed up for"
Fuck this.  Shit I don't need it.  I'm from the real Hip Hop shit.  Grandmaster Flash and the Furious 5, Afrika Bambaataa, Cold Crush Brothers, I'm from the Old School.  We don't get down like this man.
RC: Right, but they never even put your credit anywhere on that album at all.  It was kind of a white wash.
RR: Cuz they knew doing that right there would lead to some better things for me.  But I took a downward spiral cuz every 5 minutes that record was being played.
And the way they spun it was like I left and all of the sudden they got a hit and I had nothing to do with it.
So everyone was thinking, "Hey, Ready Red leaves and the Geto Boys blew up!" "Man he ain't do shit!"
RC: That wasn't the worst of it either.  Let's talk about Scarface's album…  This was just after you left Rap-A-Lot Records, and they blacked out your face from that album cover.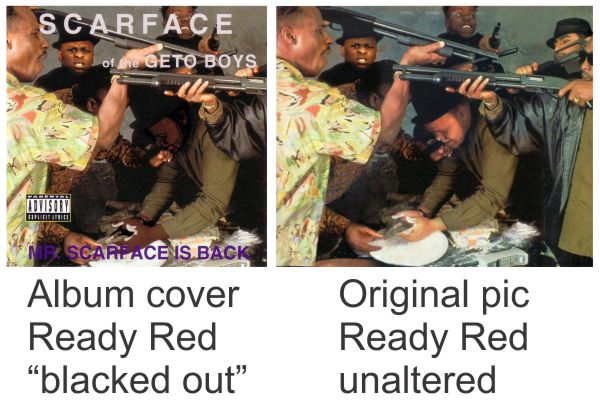 RC: I gotta know… What was it like the day you picked up that album and looked at it?
What were you thinking when you saw they just kind of old school Photoshop erased you from the cover photo?
RR: I started laughing and I said "Look at this shit right here!"
RC: (Laughs)
RR: Yeah, they tried to erase me out of their whole history.  But, I'm glad that the fans know the truth, and I'm glad the truth is finally out there.  All that because my man was mad cuz I said "Fuck him."  Know what I'm saying?
RC: Yeah, that was just one more thing they tried to do to erase your history of everything you've given to the label.
RR: Yeah.
RC: Well they aren't doing so hot right now.   I've read that recent article about Rap-A-Lot's CEO James Prince.  That kind of business reputation he had didn't fade.  Like you said, people still talk about that to this day.  They were just a corrupt business.

RR: Right.  Well you know there's a verse in the bible that says "What's done in the dark will come to light."  It might not be the next day or the next year, but eventually what you do will come to light.
So anyways, back then I started to believe that, that I was nothing, you know what I'm saying?  So I got into the darkness one night.  I ain't never started to get another job, I was 26 years old, man.
I had to get myself together, R.  Now, I'm 15 years clean and sober.  And everything I lost has come back; my respect, my technique, and I look back and I owe it all to the Lord Jesus Christ.  You know, for helping me clean myself up.
Then I met you at the oldschoolhiphop.com me and you known each other before any of this business came back.  I think I went in there right around 2003, right after I lost my older sister to a car accident.   She was killed in a car.  Me and you have been friends ever since then.
RC: Yeah, that sounds about right.
RR: And you are definitely in my crates man!
RC: Aw thanks man!
RR: Dumpster Funk is definitely in my crates man!
RC: Hey man coming from you, that means a lot man, I appreciate that!
RR: Yeah, you good folks.  You've known me before any of this ever came back, since 2009 was when I really started my comeback.
---

RC: So do you remember when you became an official member of the Zulu Nation?
RR: Right after 2006, I joined the Gateway Chapter, then I hooked up with the Zulu Brothers and sisters.  And there's all tribes in San Francisco.  Back then I was blessed to meet Afrika Bambaataa and have my time with a one on one.  So that was like a dream come true I was in service.
RC: No kidding!  Hell yeah!
---
RC: Ok so let's fast forward a little bit.  Right around March 8, 2008, apparently you got into a terrible car accident with your truck.  From what I remember you were driving up in the mountains and spotted some wolves? (Laughs) I can't even make this shit up man!
RR: Here's what happened.  I hooked up with my childhood sweetheart and I was on my way back home.  And at the 249 Highway marker in Nevada some Coyotes jumped in front of me I was able to avoid that pack, but at the 252 mile marker a bunch of them came out and I swerved and caught the soft shoulder, on the left hand side, and I went down the embankment and I flipped over 3 times.
Man, I broke 2 ribs, 2 fingers, collapsed lung, and contusions on my hip some other various parts that were hurting, and I remember bending down to pick up my phone but it was cracked.  I remember picking It up and passing out.
I woke up on my side, and I heard some people talking, and red and blue lights flashing.  I saw the flashlight go past me, and I heard one of the officers say "You think he's dead?" "The other said, "the way his car looks he might be."
But I put my hand  up to let them know I wasn't dead.  And they agreed to come get my ass.
RC: (Laughing)
RR: (Laughing) Yeah, it's funny now.  You know they wrote me a ticket for failure to stay on the highway??
RC: That doesn't really surprise me.  So this is just one of the many times where you've seen some crazy shit and lived through to tell about it.  And now we can laugh about it.  But that was crazy, how long were you laid up in the hospital?
RR: About 2 weeks or so.
RC: Yeah, and you lost all your stuff in that truck rollover too, right?  All your records and your turntables and stuff?
RR: So the turntables made it.  My SP1200 got damaged, I was mad about that.
But you know what?  In all honesty, I was just glad to be living.
On March 21st I was on my way back home, I took the same route, and I set my foot back home march 25, 2002 I stepped foot in California.  Six years later, I'm back in Trenton New Jersey.  Six years later, I'm a lot better, I have a whole new life now.  March 25 is how I mark my sobriety time.  So on March 25 2016, I'm clean and sober 15 years sober now.

RR: And as I look back on all that time, I lost my Grandfather, my sister, I lost my mother, my grandmother, and just recently my brother last year, my only brother.   I'm not looking back, I'm just looking forward, and I have good memories, cuz I tried to do more every year than I did the last year.
So if you are going thru some things, and you think you can't do it, just gimmie a call, look at me, I used to think there was no hope too, you know, but I'm glad that God had a plan for me.   I been sticking with that plan and it's been worth it.
RC: Yeah I hear you, I totally hear you.
---

RC: So let's back up just a hair…  Were you still injured from the wreck when you met DJ Q-Bert?  Or am I wrong about when you met him?
RR: Q-Bert gave me my first 1200 in the Bay Area.  He actually threw a party for me.   This is 2002, my first year out there.  Jasper Bradley told Q that I was in town, so Q called his DJ Friends, DJ Flare and Magic Mike, and a lot of other cats who have scratches named after them, and I went to the Octagon, and me and Q-Bert bonded instantly.
We became friends, we started talking and Q says "So what you up to?" "Well you know I'm out here for a fresh start, and my Grandfather just passed…" and before I left Q-Bert said, "I got something for you."  So he put an SL-1200 in my hand and he told me to "Get busy again".  Even though I never left them, I just didn't have a pair, but I had 35 years of being a DJ at the time, but that really hit me.  On the way home I just held it in my lap and started playing with it, getting back into it, feeling it like it was a beautiful woman.
---
RR: But, I'm now a Stanton DJ, so I don't really use 1200s, I use the Stanton STR8-150 since I been a Stanton DJ for 5 years.  So now when you see me, I play on the stuff that has my name attached to it now.
RC: Yeah, so how'd you hook up with Stanton then?  That's interesting too.  Tell me how you got approached by Stanton.
RR: No, I approached Stanton.  My 1200s died on me, so I needed a new pair, so I ordered a pair of Stanton's online.  And when I got them I was so impressed by them, I was like "Oh shit!" so I went to Stanton to tell them how much I enjoyed them, I saw a contact number, so I called them and left a voice mail.  About a week later, I get a call from a guy who says "Hi, my name is Dan I am the president of Stanton, and would you like to endorser our Stanton products."
So I said, "You know what? Before you even approached me, I approached you and told you how I enjoyed the product, so, yes I would love to become a Stanton DJ."
See, I bought them blindly before any of that ever happened.  That's how much I believed in them.
RC: Hey, I feel you on that.  Cuz I've had my STR8-100s for about 20 years now, and I use them all the time, and they are still just tanks!
RR: Damn right!  I never thought that I would say in my lifetime that I could say that I found something better than the 1200s.  1200s are still good, they will always gonna be good, but once you get on the STR-150s and go back to the 1200, you'll see how good things are with Stanton.  I'm sorry, but I like power now.
You can take a record and put it on a Stanton joint, and it will start and stop right on the beat, super fast.  I can backspin now on a Stanton and it spins right back up to speed right away so I'm straight now from now on.
RC: Yeah, it's a totally different feel between the two brands.  I think people get accustomed to "that feel".  It's kind of like relearning how to spin if you switch back and forth between the brands, cuz  then you have to compensate one way or the other for the different torques.
RR: I had to relearn how to DJ when I first tried to got my first Technics 1200s, cuz I was on Technic SLB 101s.  They were belt drives, so you had to push them up while you was back spinning, to catch them up on time so they wouldn't slow down.  That was a bad habit that I brought over from my belt drive, to a direct drive.  But with a 1200, you didn't have to struggle like that.  That struggle was gone, when I got the 1200s.
---
RC: Right on, let's talk about a couple of your heroes right now.  You look up to 2 very different people as your heroes, Bruce Lee and Grand Master Flash.  Why do you look up to these two guys?
RR: Well, being a red headed freckle face black kid of the 70s, really light skinned, I was chubby, I picked on a lot rchecka.  I was just meeting my father at 8 years old for the first time I remember, and he took me to go see the Chinese Connection in downtown Trenton.  And I was just like "Wow!"

RR: See Bruce Lee is kind of quiet.  If you check out his roles in his films. Bruce Lee was kind of quiet, but he whooped your ass.
So shortly thereafter, my father left again, so my Grandfather took me to Karate School, cuz I was showing some interest in that.  I started studying Shotokan Karate, so soon, all the punishment that was inflected on me, I could stop that, cuz I learned how to defend myself, and only defend myself and others who I saw injustices being done to.
So it was Bruce Lee that gave me my confidence by not being afraid to fight.  I don't care who you are, if you come my way and you disrespect me, put your hands on me and try to hurt me, I will get with you, but other than that, I tried to use the art of fighting without fighting.   So Bruce Lee has been an impact on me since I was 8 years old.  I'll be 50 this year.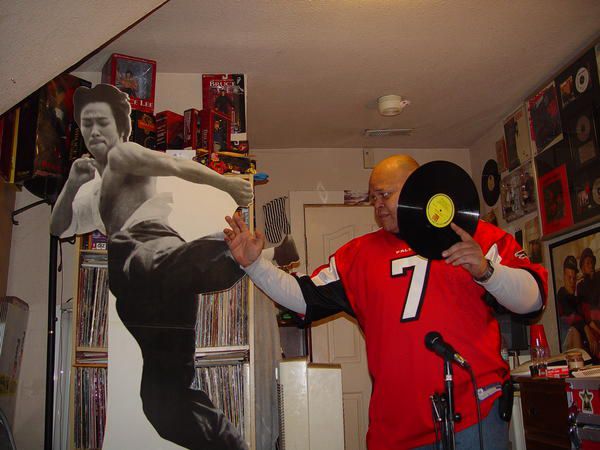 RR: I actually used some of his teachings to get my life together.  See if we go back, Lee himself had some issues.  He wasn't a totally put together human being like most people think.   But if you really research him you'll see that he was a proud individual like all of us.  He was just a hell of a fighter, but behind the arena he had weaknesses.
See like my arena was music behind the turntables, oh I'm super bad, but you take me out of that arena I may not be the most put together person, Know what I mean?  Cuz I'm out of my element.  So I had to learn how to be secure in front of the wheels and off the set.  See Bruce Lee taught me about that.
---
RR: Now Grandmaster Flash, is the Pinnacle of DJs.  See back in my day he was the litmus test of being a DJ.  And I share a special bond with my Grandfather who… my Grandmother reported that my Grandfather, whose name is George, "he stays in his room all day and all night making strange noises and I don't know what he's doing up there."
So my grandfather comes upstairs and says "What's going on up in here?"  So I show him, and he has a story from Jersey, and he tells me to come up, and he presents me a ticket for him and a ticket for me to go see Shannon, singer of "Let the Music Play" and Grand Master Flash and the Furious 5.

So we sit there in the audience, we get thru Shannon, and out comes Grand Master Flash and he starts cutting up Good Times.
So my Grandfather sees that and says "Oh, is that what you are trying to do?" I said "Yeah!"  So I explained to him Kid Creole, Scorpio, Melle Mel, Rahim, the Late Great Cowboy, and I said "Yeah, those are great MCs, but Grand Master Flash, the guy standing behind, he just DJs!"
He said "Really?"  And he started to get really fascinated by it.  "And for all that he was just spinning records?" I said "Yeah!"
So after the show, we're driving home, he started asking more questions.  When he started asking questions, it started getting interesting.  He said "What would you need to uh, you know, start doing that type of stuff?"   "Cuz the offer is this…  If you graduate from High School, I'll get you a car."  But I was soon to graduate High School but I didn't want a car, I wanted some useful equipment, rchecka.
So I got a pair of 101 Technics belt drive turntables, a Gemini mixer, some records, tape decks, and some other stuff.  He says "You know what?  You're the first guy I ever met who didn't want a car!"  But it would soon pay off.   So that's what I did man.

RR:  In New Jersey and some greater cities they had what they called junk days where people throw out their junk, so I got pretty good at tinkering and putting stuff together, so I had some changers, you know changers is one of the best DJ turntable ever, you just gotta cut off the long spindle but once they get going, they get going.  They may scratch up your records on the other side, but those things was tough!
So I had 2 of them, I was good at cutting with knobs and stuff.
So um, the adventures of Grand Master Flash, I would play follow the leader.  It goes on "You say!  You say!" and before Flash would let the last "You Say!" go I would try to play like him.  "You Say one for the treble, 2 for the time, come on yall let's rock that —-"  I would grab the record and try to get the timing that he had.  Cuz that record is like a teacher.
RC: "Yeah!  You're right!"
RR: And I became fascinated with GMF, Joseph Sadler, he's always been one of my heroes and always will be!   Just like Grandwizard Theodore, DJ Red Alert, there's so many…like DJ Tony Tone, Charlie Chase… I hate to start naming all my heroes, cuz I'll forget their names.  I love anybody from the true school foundation, know what I'm saying?  I love them because I am them, in a lot of ways man.
RC: Yeah, you are man, and I watched you recreate Grandmaster Flash on the Wheels of Steel, I mean you did it.  I saw it on YouTube.  That was kind of like a rite of passage for you to complete that wasn't it.
RR: Well you know what, I did it on Serato on that Youtube vid.  I wish they would have shown me when I was young and I would do it on the wheels.   I used to have a cat who was passing off the records to me.  My cousin, B, My cousin Brian Lovett.  Passed off the records.  Anyways, I did it on Serato cuz you always hear "oh that was a studio produced joint."   No it was not studio produced that was nothing but turntables man.
When they recorded it, to make the levels using limiters all go level across the boards you really had to know what you was doing back in the day.  But Flash was with that man.  Flash was the king.
As he says "I don't care who's better, Flash is forever." "I'm the first one to do that"
RC:  Yeah I hear that!

RR: See back then, Hip Hop was the up lifter.  It was invented by folks who saw a positivity for what Hip hop would come to.  Cuz you know, it was rough, and it comes from the gangs.
Bronx groups like Savage Skulls, Black Spades..They know we gonna get down on the streets with our Ghetto brothers.  And it had this rough status, but it became peace, unity, love and having fun.
That's how the Zulu nation was born.  Along with the Godfather Kool Herc, who had a birthday party by the request of his sister Shelby.
So DJ Kool Herc came to play his block party and that started it all.  So that's what I wanna focus on, that's the only reason I got into this in the first place.
I'm glad I had these heroes that I could bring to my mother and grandparents and say this is what I wanna do.  But she wouldn't hear that.
So I'd sit and listen to Grandmaster Flash and the Furious Five album with her or Kurtis Blow or the Fat Boys.
Cuz back then you could listen to it with your family.  But man, now?  Now, I'll be like "DAMN!  What the hell are they saying?  I find it kind of shocking.
I don't believe in censorship for the artist, but I believe the artist should be responsible for what comes out of he or she's mouth because you have the gift of life or death in your speech.
One thing that I remember when Al Sharpton when he was doing James Brown's Eulogy, he said "James Brown told me on his death bed to tell Michael Jackson and Prince to raise the music back up."
Raise the music back up meaning that your parents, your grandparents, your kids, can all hear the positivity in the message man.  So that's my mission, is to raise it up.  And I'm gonna raise it up man because we need it.
RC:  Yeah, we do!  We need to hear that.  Actually, yeah, that's really what I want to talk about…  We wanna hear about that project you got going on with Johnny C and Jukebox!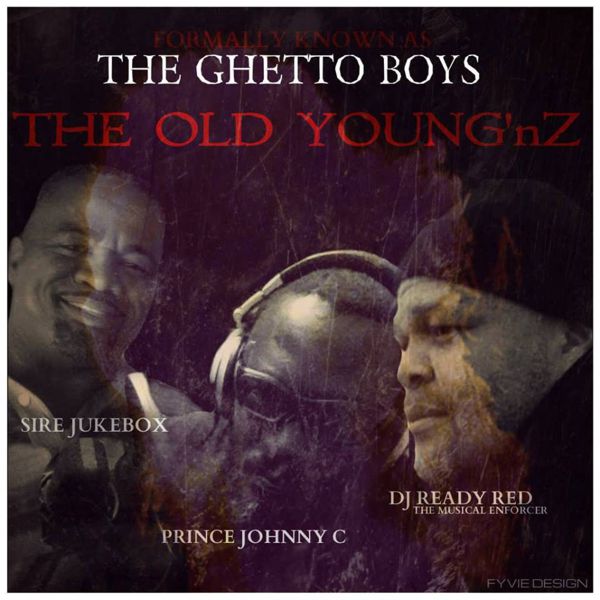 RR:  I got back with Johnny C and Jukebox of the Original Ghetto Boys and we are now the Old Young'nZ and we're working on an album now.  We've just been putting together stuff and ideas, we are working on getting the sound that is ours.
That's Johnny C and my sound, we had that sound in Trenton Jersey way back in the late 70s early 80s.  And we just coming up with good grooves and stuff.
We're both 50 years old now, so we're coming with Old Young'nZ a point of view, we're not trying to compete with these youngsters.  We have to come up with some solutions to some of these problems.
We're working on what they call peace, unity, love, and having fun which was an element of the DJ and MC that I don't hear on records any more.
With some of the new stuff, and I still spin current stuff, cuz I get booked for a lot of parties, but I don't hear party records any more.  I hear dreary, death and destruction that doesn't really give you a lot to live for nowadays.
We're putting this together out of love, and we won't give it away, but we'll put it out there.
So it might be a minute, we was trying for the Spring, but you know, things happen, so you know were' working and trying to get at least 2 singles dropped, just to let the people know, hey, we're doing our thing.
I'm also being constantly booked to do DJ joints or shows, so my time is you know, spread thin.
RC:  Well, you want it to be right, and you want it to be good…  So you are taking your time getting it right.  You got kind of a timeline on this?   Are you a perfectionist?

RR: I would say yes, I am.  But back to the point of when it'll get released.  it's to the point where as a DJ, I could have put that away, or I could put this away.  Sometimes you gotta know when to stop and be like, take away, you know what I'm saying.  You got to know when to stop.
Sometimes you think, I could have used a better kick, or a I could have used a better snare.  When I listen to music I hear the high hat, I hear the kicks, and snare.  And I know when that kick and snare is gold.  There's only a handful of artists that I can listen to and be like, "Ok, yeah, they jamming!"  But I never followed what a lot of other folks did, I always just did what I felt.
When I started making records, A guy named Steve Founier who was a radio DJ, said to me, "You know what you need Red?  When you start doing the process of recording, go get the hottest 2 records, and mix yours to the levels that these hot records are."  Cuz at first when come to the club, and put our wax on, the levels would be so low, and this was one of the rookie mistakes that a lot of artists make.  Their levels are nowhere near the levels of the artists who were making it were.   You gotta get your kicks up and snares up to the level of these hot records.  You know, I'm giving you game now producers!  Go get the hottest 2 joints and listen to where everything is on there.  And set your mix accordingly so that way when you get to the club and you want the DJ to play it, he ain't got to boost it all up.  See it's already there.
I'm sure you know as a DJ know how some records are really low and some records are really high where they sound good, and you don't need to do anything to the high joint.
RC: Absolutely.  Mixing highs and lows can be a pain.
---
RC: And speaking of DJs, let's talk about the Hip Hop DJ in 2016…  In the past you talked about the changes of the DJ from year to year.  Nowadays we got controllers instead of decks, we got very advanced CD-Js that have been around forever…  What do you think is the cut-off point where someone is no longer a DJ based upon what they use or how they use it?

RR: Man, you know what?   DJ Red Alert said it best….  rchecka, do you still have a rotary phone?
RC: No, like a lot of people I don't even have a land line.
RR: There you go.  I stick with the times too..  My boy DJ Wiz told me when I was living in San Jose back in 2006-07 told me "Red, man, I'm using this Serato" and I asked him "What's that man?" he said this device is just like spinning wax.  So I plugged it in, and I stayed on that damn thing for 10 hours, trying to get my heat on.  I was like "wow this is fascinating man!  You can leave the records on!"  See cuz as a Hip Hop DJ you always taking the records off.  Sometimes you'd catch me taking the control record off trying to put on the next record.  But yeah, you gotta stick with the times man.  So I stick with the times, and I try to employ the technology to how I wanna attack.

See Grandmaster Flash said "If you was wack in the analog era, you gonna be wack in the digital era."
Then again now there are these things on some of these controllers called sync, which is a sin!  To me, that's like biting a rap.
Now, do I have virtual DJ?  You know what?  Yeah, I played with it when I was sitting here in my bedroom, cuz I think it's kind of cool just to play around with it.  But I was just playing around cuz I'm always gonna be a wheels of steel guy.  Cuz that's just me.
I remember a friend of mine named Swell, say "Yo Red.  I'm gonna get to the park in like an hour man.  And I already packed up my 12"s, so I hooked up with his stuff, and I kept reaching for the tone arm on his CD-Js.
That whole repetition over the years of grabbing that tone arm made that a reflex.  I'm not knocking people who use CD-Js or controllers, but to me turntables are a lot easier, you don't have to worry about anything as long as the record is spinning in the groove.  It keeps me on my toes, it makes me aware of the music, cuz otherwise I get bored quick, and I'll go to sleep.
RC:  So when you are working on your newer productions, are you using any newer tools or are you sticking to the classic gear?
RR: Well I use my MV-8000, which is a beast.  A lot of people sleep on it, cuz it's not the instant gratification they are used to.  I tell people, you gotta get into your manual for this man.  But I been using this for about the past 6 years I use Logic, I use Fruity Loops, I use anything that will work for me.  I use modules that I sample into the machine or I'll play.  I do whatever it takes man.  I use both worlds, analog and digital man.  I really like using analog over digital cuz it amps it up and it really has that dirty sound.  But for the basis of my work, I like to beat physically on the drum machine.  I don't like beating on the keyboard.  Cuz it's like (singing) "Flash is on the Beat Box!" it ain't "Flash is on the Keyboard!"  See the beatbox is FOR Hip Hop man.
RC: No doubt, and it's like riding a bike, you know how to get around once you do it, and you know how everything's gonna turn out.
RR: Yeah.
---
RC: Alright, well let's wrap things up, cuz I have one more question for you and it's about your future.  Let's assume you get this project out and you are happy with the results.  What's next?  What do you have plans for further down the road?
RR: Keep on doing it.  Find some younger blood out here, just expand it, and it keep it going, cuz it's not gonna stop.  If I was to get back to where I was, that's a beautiful thing.  I have gotten to the point now where I could do it for a living again, or I could do it for a hobby.  You know I have to have a balance.
I'll be 50 years old.  So I love it, and I'm always gonna do it, I don't know on what platform, professional or being a veteran DJ again, but you know what?
At the end of the day Collins Adam Leysath is happy that DJ Ready Red can try every now and then and do something I love, you know what I'm saying?
I'll be happy in my life as long as I stay true to that.
-written by rchecka
Categorised in: Uncategorized
This post was written by BJSG