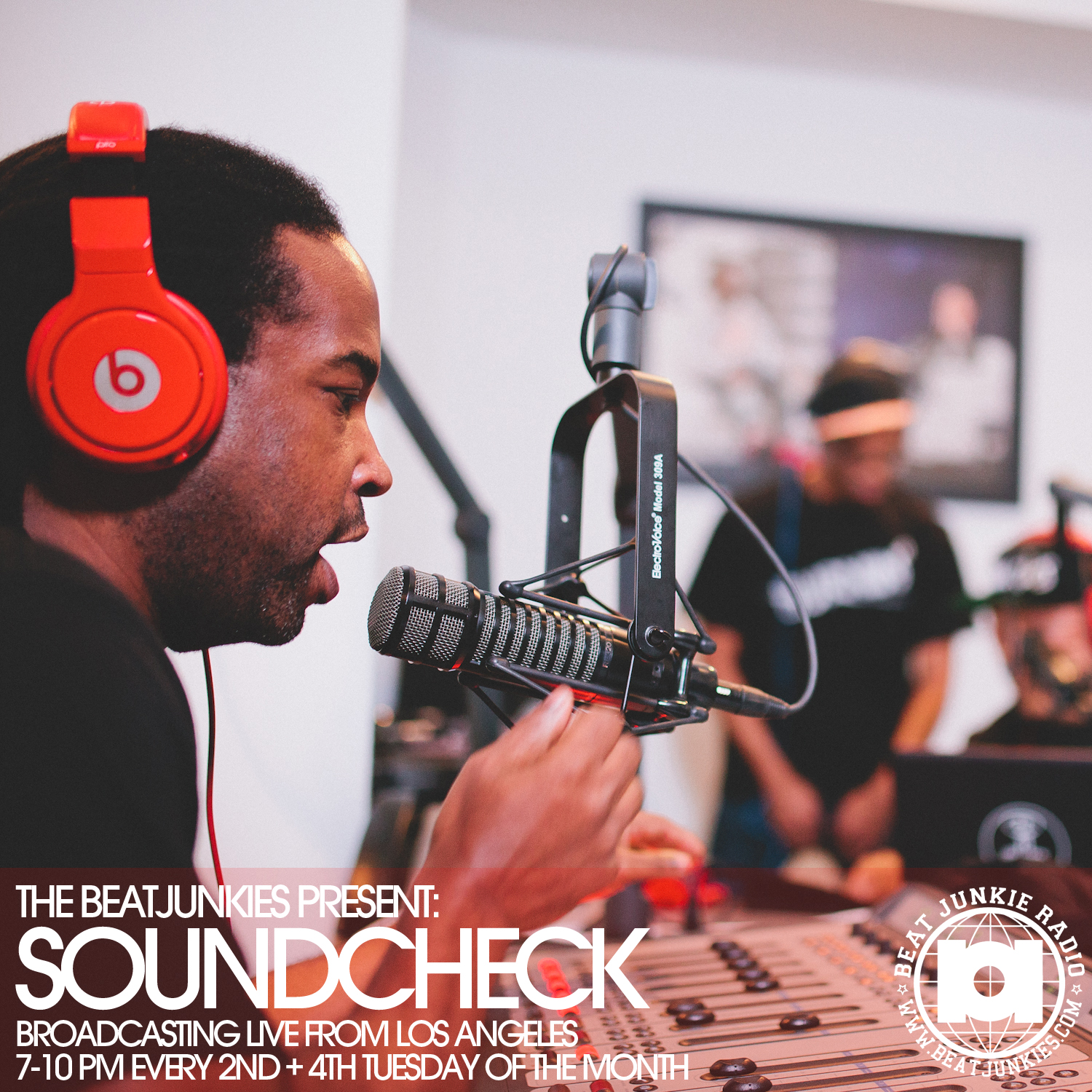 AUDIO: THE BEAT JUNKIES PRESENT: SOUNDCHECK – EP. 2 w/ ELZHI & TUXEDO (3.10.15)
If you have been following what we've been doing, you know that we started our very own Radio Station channel at Dash Radio….Beat Junkie Radio! We also have our very own show called Soundcheck, that we do live every 2nd & 4th Tuesdays of each month from 7-10PM. We launched our first show on February 10th with special guests Dilated Peoples, MED, & LMNO.
This past Tuesday, March 10th, we did our 2nd show with special guests Elzhi & Tuxedo aka Mayer Hawthorne & Jake One. We posted up this week's show on our soundcloud page. Now you're wondering "What about the 1st episode?". We'll post that up soon but we wanted to flip it & post up the 2nd episode first. Enjoy the show & make sure you tune in to Beat Junkie Radio, exclusively on Dash.
Episode 2 w/ Elzhi & Tuxedo (Mayer Hawthorne & Jake One)
March 10, 2015.
First Hour
Mix: Dj D-Styles
1. Grand Master Flash & The Furious 5 – The Message (Tall Black Guy remix)
2. Love Again Instrumental – Run The Jewels
3. Danny Brown- blunt after blunt
4. Eprom – Empires
5. Love Again inst. – unknown artist
6. E-40 – Art Of Storytellin
7. Captain Murphy feat Viktor Vaughn (DOOM) x Earl Sweatshirts x ThunderCat – Between villains
8. Royal Flush feat Sean Price – Beasting
9. Dizz1 – Frazzled
10. Jon Wayne – Mean Muggin
11. Stagga – The Motoskillz
12. Stagga – Stagga Sound Killer
13. Gas Lamp Killer – Flange Face
14. Adrian Younge – Turn Down The Sound
15. Rapsody – Godzilla
Guest Interview: Elzhi
16. Elzhi – February (prod by 14KT)
17. Jake One ft. Elzhi & Royce da 5'9 – Glow
18. Elzhi – Boomerang Slang
 (prod by Houseshoes)
19. Dabrye – Game Over feat Jay Dee
 (Instr)
20. Step Brothers – Step Masters
21. Freestyle Fellowship – This Write Here
22. Jay Dee – Hoard Inst.
Second Hour:
Mix: J.Rocc – Notorious B.I.G. Tribute Mix
1. Notorious B.I.G. – Queen Bitch
2. Notorious B.I.G. – Players Anthem demo
3. Biggie Freestyle 2 (Bucktown beat)
4. Notorious B.I.G. feat Sadat X – Come On
5. Red Hot Lover Tone – 4 my peeps feat Notorious B.I.G. & Organized Konfusion
6. Pudge The Fat Bastard feat Notorious B.I.G. – Think Big
7. Notorious B.I.G. – Who Shot Ya
8. Heavy D & The Boys feat Notorious B.I.G. – A Buncha Niggas
9. Eddie F & The Untouchables – Let's Get It on feat Heavy D, 2pac x Notorious B.I.G. x Grand Puba
10. Notorious B.I.G. – The Ugliest
11. Notorious B.I.G. – Real Niggaz Do Real Things
12. Notorious B.I.G. – Freestyle (Black Superman)
13. De La Soul – Rock Ko.Kane inst.
Guest Interview: Tuxedo (Mayer Hawthorne & Jake One)
14. Tuxedo – Do It
15. Tuxedo – Number One
16. Tuxedo – Watch The Dance
17. Tuxedo – R U Ready
18. Tuxedo – So Good Inst
19. Slum Village – slum village
20. PRHYME – U Looz
3rd Hour
Mix: Dj Rhettmatic
1. Slum village – Scheming feat Jay dee x Posdnuos x Phife Dawg
2. Oddisee x Phonte – Requiem
3. eMC – Triple Threat
4. Frank Nitt – Slipping
 (prod. by J.Rocc)
5. Jay Electronica – Road To Perdition
6. yU & nottz – Homicide
7. Ab Soul – 47 Bars
8. Ras Kass x Apollo Brown – PNT
9. D.R.U.G.S – Dark jr
 (Inst)
10. Your Old Droog – Sonic Youth
 (prod. by Marco Polo)
11. Oddisee – Word To Wise
12. Kissing The Curb
 – Jake One ft. Busta Rhymes x Bishop Lamont
13. Now On – Catapults
14. 14KT – W.C.E.F feat MED x Kokane
15. 14KT – RockABye Baby
16. eMC – Charly Murphie
17. Joey Bada$$ – Paper Trail$
 (prod. by Dj Premier)
18. Saga – City Streets feat Roc Marciano
19. Your Old Droog – Homicide
20. Gangrene feat. Earl Sweatshirts – Play it cool
21. Red Bills – The Black Opera
22. Snoop Dogg – Cadillacs
 (prod. by Madlib)
23. The Joint Chiefs (Frank Nitt & Rhettmatic) – The Nitty Show
24. Fashawn feat. Busta Rhymes – Out The Trunk
25. Crown Royale (Buff1 x Rhettmatic) – The Chosen Few ft. MED, Fashawn, & Tres Styles
26. Axel F – Superman
27. Talib Kweli x Madlib ft. Strong Arm Steady
 – The Function
28. The Visionaries feat. Rakaa & Brother J – Need To Learn
28. Gangrene – All Bad
29. Gangrene – Take Drugs
30. Gangrene – Vodka & Ayahuasca
Categorised in: Media, Uncategorized
This post was written by admin