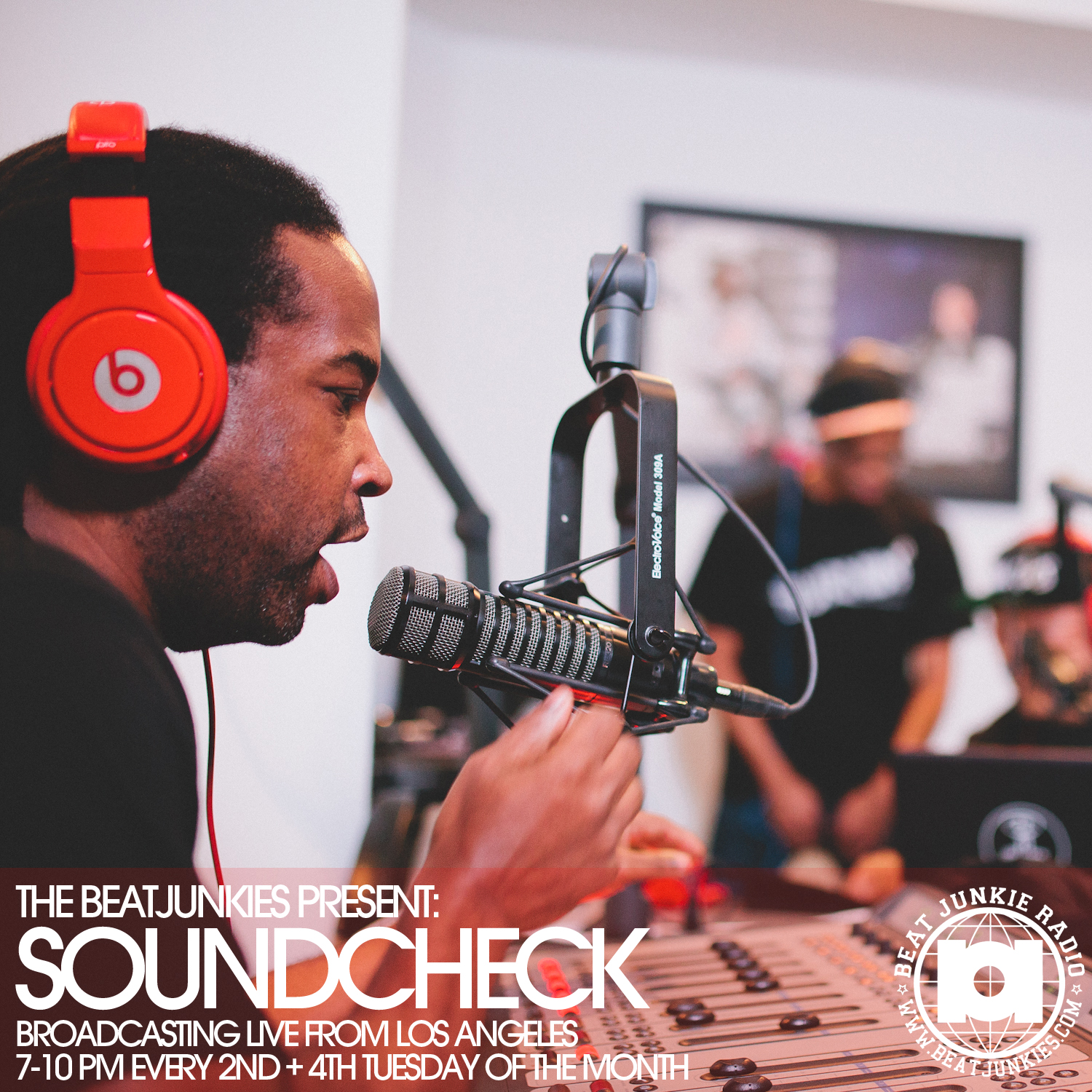 AUDIO: THE BEAT JUNKIES PRESENT SOUNDCHECK EP. 1 w/ MED, DILATED PEOPLES, & LMNO
If you have been following what we've been doing, you know that we started our very own Radio Station channel at Dash Radio….Beat Junkie Radio! We also have our very own show called Soundcheck, that we do live every 2nd & 4th Tuesdays of each month from 7-10PM. We launched our first show on February 10th with special guests Dilated Peoples, MED, & LMNO.
People have been requesting for the first episode, so here it is! Enjoy the show & make sure you tune in to Beat Junkie Radio, exclusively on Dash.
The Beat Junkies present Soundcheck Ep. 1 (2.10.15)
w/ MED, Dilated Peoples, & LMNO
First Hour:
Mix: J.Rocc
Intro
Common – Rewind That
The Quakers feat. Guilty Simpson – Rip
Mobb Deep – Taking You Off Here
Step Brothers – Swim Team Rastas
Bizarre Ride – Double Lief
Jay Electronica – We Made It feat Jay-Z
MF DOOM – Doomsayer (Young Guru Remix)
Mr. Muthaf**kin Exquire feat. Heron – Chains
Slum Village – Scheming w/ J Dilla, Posdnous & Phile Dawg
PRhyme – U Loos
Cozz – DKBU
J Dilla – Baby feat Guilty simpson
J Dilla – Lightworks
J Dilla – Pause feat Frank & Dank
Dabrye – Game Over feat. Jay Dee
Dinco D x Mellow Man Ace x Jarobi White – Case by Case
????
D.I.T.C – Digging In The Crates (Dj Premier Remix)
Masta Ace – Top Ten List (??? Remix)
Guest: MED
Axel F – Omega feat Blu
Axel F – Searchin'
Axel F – Screechin White Walls feat. Guilty Simpson
MED – Jungle Love feat. Guilty Simpson
Second Hour:
Mix: Dj Babu
Vince Staples – Progressive 3 babu edits
Your Old Droog – Bad To The Bone
Fashawn – The Beginning
Guest: Dilated Peoples
Dilated Peoples – Let Your Thoughts Fly Away
Dilated Peoples – Cut My Teeth
Dilated Peoples – Directors
Dilated Peoples Good As Gone (Live)
Pusha T – Lunch Money
Rapsody – Godzilla
PRhyme – To Me To You
NikoBeats – Remove This Doubt
Ultimate Force – I'm Not Playing
Third Hour:
Mix: Dj Icy Ice
Slimkid3 x Dj Nu-Mark – No Pity Party
Da Bush Babies- The Love Song
Mass influence – All Out
Guest: LMNO
LMNO – Long Beach (inst)
LMNO – Industry
LMNO & Twiz The BeatPro as Cohorts – Cohorts
Cohorts – Like Mind
Pete Rock & CL Smooth  – Straighten It Out
Stro Elliot – Miles Funk
The Loop Professor – The Stop and Gil
Outro
Categorised in: Media, Uncategorized
This post was written by admin